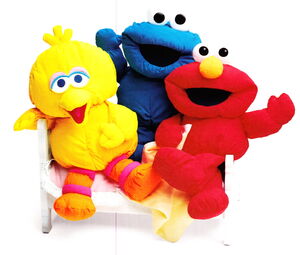 Sesame Street Soft Dolls are a line of Sesame Street baby toys made by Hasbro/Playskool in 1992. According to the Playskool Toy Fair '92 catalog, the soft dolls have "pillowy, rounded baby features... just right for little hands to hug and hold." The assortment included Big Bird, Elmo and Cookie Monster.
Ad blocker interference detected!
Wikia is a free-to-use site that makes money from advertising. We have a modified experience for viewers using ad blockers

Wikia is not accessible if you've made further modifications. Remove the custom ad blocker rule(s) and the page will load as expected.