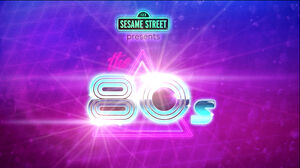 Sesame Street Presents the 80s is an original Sesame Street web video, featuring a series of song parodies, released on the show's official social media accounts on July 27, 2017. The YouTube version contains the full, six-minute video, while all other accounts trim down to just the musical portions. The shorter edits also re-arranges the order the songs appear.
In the video, Prairie Dawn prepares for the Sesame Street Glee Club's performance. Cookie Monster consumes the lyric sheets as well as Grover's phone, where the music is kept. From inside his tummy, Cookie inadvertently starts up Grover's playlist of songs from the 1980s while the cast performs parodies of the tunes.
Songs
"Colors (There's Like a Million)", based on Culture Club's "Karma Chamleon"
"Count to Nineteen," based on Dexys Midnight Runners' "Come On Eileen"
"Super Grouch", based on Rick James' "Super Freak"
"Tuck Elmo In Before Before Bed Oh-Oh," based on Wham!'s "Wake Me Up Before You Go-Go"
"Bake Cookie", based on a-ha's "Take On Me"
"Always Gonna Be Your Friend", based on Rick Astley's "Never Gonna Give You Up"

Rick Astley Muppet with the ensemble

Other songs/albums referenced (through dialogue) include:
See also
Ad blocker interference detected!
Wikia is a free-to-use site that makes money from advertising. We have a modified experience for viewers using ad blockers

Wikia is not accessible if you've made further modifications. Remove the custom ad blocker rule(s) and the page will load as expected.