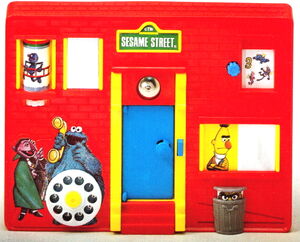 Sesame Street Play Street is a Sesame Street crib toy made by Knickerbocker in the late 1970s. The toy attaches to a crib or playpen, and the child can explore the different textures and affordances. Doors and windows can be opened and closed, the dial turns, the bell rings, and Oscar the Grouch pops out of his trash can.
Ad blocker interference detected!
Wikia is a free-to-use site that makes money from advertising. We have a modified experience for viewers using ad blockers

Wikia is not accessible if you've made further modifications. Remove the custom ad blocker rule(s) and the page will load as expected.