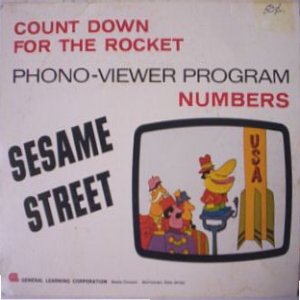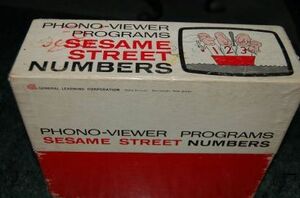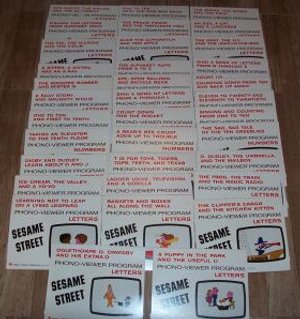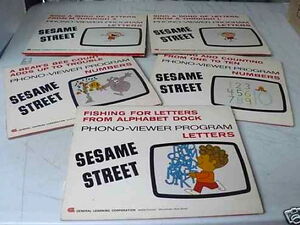 In 1970, General Learning Corporation released two sets of Sesame Street Phono-Viewer Programs, one for letters and one for numbers. Each program consisted of a record and a film strip, showing an early Sesame Street cartoon, and was intended to be played on a machine similar to the G.E. Show 'n Tell.
The General Learning Corporation specialized in providing curricula and training for teachers to integrate new technologies into classrooms. It is likely that these programs were sold directly to schools and not commercially released.
Letters Titles
The Alphabet Robe from A to Z
Sing A Song of Letters from A through L
Sing a Song of Letters from M through Z
Alice the Alphawitch and her Apple
Learning Not to Leap on a Lying Leopard
The Proud Pirate and the Fortunate Fish
Ape, Open Balloon, and Bicycle Bear
Fishing for Letters from the Alphabet Dock
The Pin, the N-Crow, and the Violin
A Zipper, a Kitten, and an X-ray
The Rooster Robber and Mister Q
A Silly Story and Naughty Nickie
Digbey and Dudley Learn About D and J
Ice Cream, the Valley, and a Yo-Yo
T is for Toys, Tigers, Tops, Teeth, and Texas
Ladder Louie, Television, and a Gorilla
Baskets and Boxes All Along the Wall
The Snake, the Worm, and the Hole
An Egg, a Cat, and a Lunchbox
The Goat, the Fly, and the Jack-in-the-Box
D. Dudley, the Umbrella, and the Mailbox
The Frog, the Train, and the Magic Radio
The Clipper's Cargo and the Kitchen Kitten
A Puppy in the Park and the Useful U
Oglethorpe O Ormsby and his Extra O
The Horse, the Mouse, and the Butterfly
Numbers Titles
Count Up for the Rocket
Count Down for the Rocket
Singing and Counting from One to Ten
The Sad, Sad Tale of the Ten
A Bears Bee Count Adds Up to Trouble
One to Ten and First to Tenth
Eleven to Twenty and Eleventh to Twentieth
Taking an Elevator to the Tenth Floor
Counting Down from Ten and Back Up Again
One to Ten with the One Man Band
Ad blocker interference detected!
Wikia is a free-to-use site that makes money from advertising. We have a modified experience for viewers using ad blockers

Wikia is not accessible if you've made further modifications. Remove the custom ad blocker rule(s) and the page will load as expected.