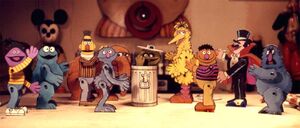 Sesame Street Peg Pals were an unfinished set of toys from Colorforms that was planned for release in 1975. Following the unsuccessful release of three sets in 1974 featuring Popeye, Mickey Mouse and Raggedy Ann, the toys were never produced or released.
The set included Big Bird, Oscar the Grouch, Ernie, Bert, Grover, Cookie Monster, Herry Monster, Mr. Snuffleupagus, The Amazing Mumford and Roosevelt Franklin.
Ad blocker interference detected!
Wikia is a free-to-use site that makes money from advertising. We have a modified experience for viewers using ad blockers

Wikia is not accessible if you've made further modifications. Remove the custom ad blocker rule(s) and the page will load as expected.