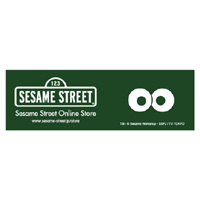 The Japanese Sesame Street Online Store sells rolls of 5cm-width packing tape, decorated with the Sesame Street logo and a picture of Cookie Monster's eyes. According to the description on the website, the tape was developed as packaging material for the store, but is now being offered for sale.
External links
Ad blocker interference detected!
Wikia is a free-to-use site that makes money from advertising. We have a modified experience for viewers using ad blockers

Wikia is not accessible if you've made further modifications. Remove the custom ad blocker rule(s) and the page will load as expected.