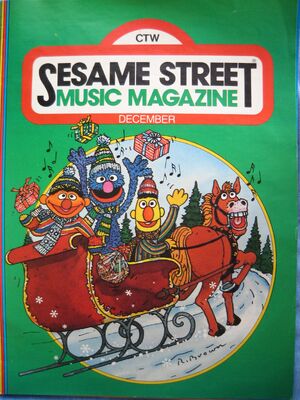 Sesame Street Music Magazine Vol. 3, No. 3 was released in December, 1984.
Record track listing
Side One
Winter Sleighride
Selections from The Nutcracker (Tchaikovsky)
"Trepak" from The Nutcracker (Tchaikovsky)
Jingle Bells (activity)
Jingle Bells
To Grandmother's House-Big Bird and Oscar
The Beep Beep Song (Sevush)
Side Two
Music Pictures:
Pacific 231 (Honegger)
Symphony No. 101 "Clock" (Haydn)
La Mer (Debussy)
Overture from William Tell (Rossini)
The Grand Canyon Suite (Grofe)
The Flight of the Bumble Bee (Rimsky-Korsakov)
Sing-a-Gram
A Gift of Music: Meeting the Instruments
A Gift of Music: Game
Ad blocker interference detected!
Wikia is a free-to-use site that makes money from advertising. We have a modified experience for viewers using ad blockers

Wikia is not accessible if you've made further modifications. Remove the custom ad blocker rule(s) and the page will load as expected.