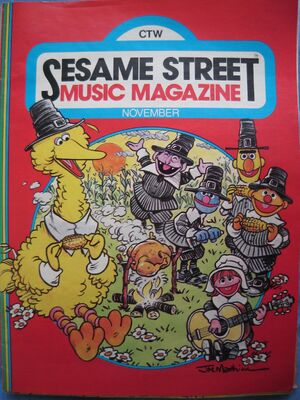 Sesame Street Music Magazine Vol. 1, No. 2 was released in November, 1982.
Record track listing
Side One
Sesame Street Theme
Big Bird talks about Thanksgiving
Over the River
Thanksgiving Day Parade-The Sesame Street Marching Band
Up to the Moon and Splash Down: Space Music
Foot 'n Hand Band: She'll Be Comin' Round the Mountain
Side Two
The Sesame Street Music School: Hi and Lo from Music Time
Getting Ready for Thanksgiving: American Indian Song
Sesame Street Opera Co.: Overture to The Magic Flute (Mozart)-Bruno Walter, Columbia Symphony Orchestra
Papageno's Song-Ron M'Sadoques, Baritone
The Milk Shake Shaker: The Banana Boat Song-The Brothers Four
Cast
Ad blocker interference detected!
Wikia is a free-to-use site that makes money from advertising. We have a modified experience for viewers using ad blockers

Wikia is not accessible if you've made further modifications. Remove the custom ad blocker rule(s) and the page will load as expected.