Sesame Street Music Magazine Vol. 1, No. 1
Talk

0
Share
Ad blocker interference detected!
Wikia is a free-to-use site that makes money from advertising. We have a modified experience for viewers using ad blockers

Wikia is not accessible if you've made further modifications. Remove the custom ad blocker rule(s) and the page will load as expected.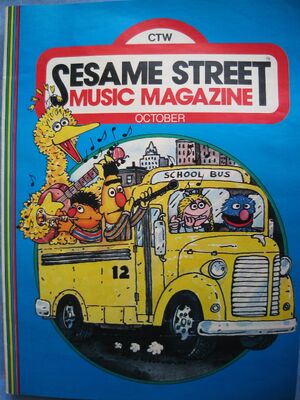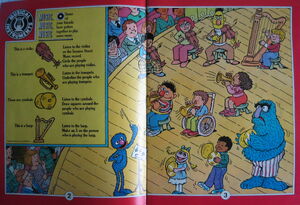 Sesame Street Music Magazine Vol. 1, No. 1 was issued in October, 1982.
Magazine Contents
Music, Music, Music - visual and audio identification of instruments
Foot 'n Hand Band - clap and tap different patterns
The Sesame Street Marching Kazoo - Bert shows you how to make a kazoo
Halloween Night - spooky sing-along
Sound Game - move your gamepiece around the board when you hear your rhythm instrument
Finger Marching with the Sesame Street Band - make your fingers march to the rhythm
Tree Notes - find the notes hidden in the picture, connect the dots to see what instrument Big Bird is playing
Sound and No Sound Pictures - which of these things make sounds?
Record track listing
Side One
Sesame Street Theme/Music, Music, Music/I Wish I Played
Foot 'n Hand Band Introduction
Foot 'n Hand Band Activity: Turkey in the Straw
Halloween Night
Side Two
Sound Game: Meeting the Instruments
Sound Game: Instructions
Sound Game
Finger Marching: March from Suite from Love of Three Oranges (Prokofiev) – Philadelphia Symphony Orchestra, Eugene Ormandy conducting (excerpt)
Tree Notes: Grandma's Feather Bed (Connor) – John Denver (excerpt)