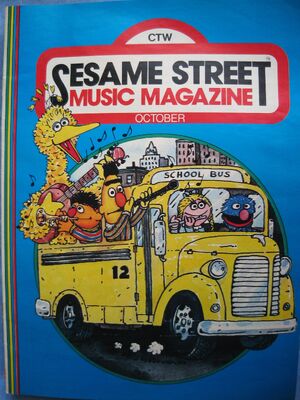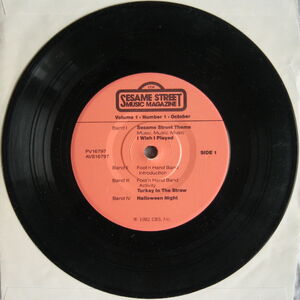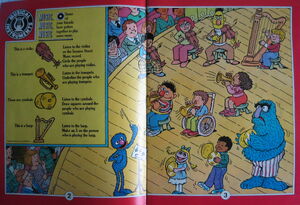 Sesame Street Music Magazine Vol. 1, No. 1 was issued in October, 1982.
Magazine Contents
Music, Music, Music - visual and audio identification of instruments
Foot 'n Hand Band - clap and tap different patterns
The Sesame Street Marching Kazoo - Bert shows you how to make a kazoo
Halloween Night - spooky sing-along
Sound Game - move your gamepiece around the board when you hear your rhythm instrument
Finger Marching with the Sesame Street Band - make your fingers march to the rhythm
Tree Notes - find the notes hidden in the picture, connect the dots to see what instrument Big Bird is playing
Sound and No Sound Pictures - which of these things make sounds?
Record track listing
Side One
Sesame Street Theme/Music, Music, Music/I Wish I Played
Foot 'n Hand Band Introduction
Foot 'n Hand Band Activity: Turkey in the Straw
Halloween Night
Side Two
Sound Game: Meeting the Instruments
Sound Game: Instructions
Sound Game
Finger Marching: March from Suite from Love of Three Oranges (Prokofiev) – Philadelphia Symphony Orchestra, Eugene Ormandy conducting (excerpt)
Tree Notes: Grandma's Feather Bed (Connor) – John Denver (excerpt)