Ad blocker interference detected!
Wikia is a free-to-use site that makes money from advertising. We have a modified experience for viewers using ad blockers

Wikia is not accessible if you've made further modifications. Remove the custom ad blocker rule(s) and the page will load as expected.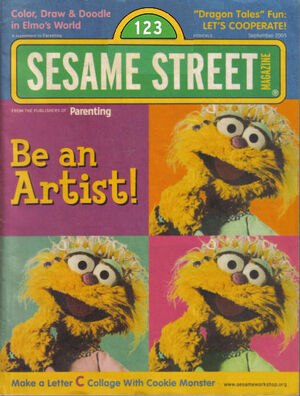 September 2005: This is an issue about artistry and color. David Dees, Stef de Reuver, Monica Wellington, Karen Katz, Sue Diccicco, Joe Mathieu and Bob Berry all provide illustrations for this issue. This issue also features original or modified artwork from the artists Andy Warhol and Claude Monet. Leslie Kimmelman provided story and poem content for this issue. This issue is brought to you by the letter C and the number 7.
Includes a mini-poster called Chalk Talk featuring Elmo and Zoe.
Color My World
Colorful Canvas
Cloud Collage
Elmo's World: Mr. Noodle's Doodles
Play With Me Sesame: Heart to Art
Willy-Nilly Water Lillies
It Is I, Grover
Sesame Safari (animal photo feature) - Cranes with Zoe
Dragon Tales --- School in the Sky Mural
Happy Healthy Monsters Calendar
Big Bird's Fridge