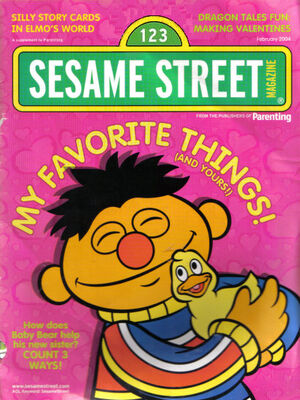 February 2004: "My Favorite Things! (And Yours!)" is the theme of this issue of the magazine. It features content "specifically designed to encourage young children to talk and learn about their favorite people, places and things." Michael Strouth, Tommy Stubbs, Sally Vitsky, Dagmar Fehlau, Stef de Reuver and Colleen Pidel provided illustrations for this issue. This issue also includes content from Sesame Street Sign Language ABC with Linda Bove and Elmo's World: Hair.
Ad blocker interference detected!
Wikia is a free-to-use site that makes money from advertising. We have a modified experience for viewers using ad blockers

Wikia is not accessible if you've made further modifications. Remove the custom ad blocker rule(s) and the page will load as expected.