Ad blocker interference detected!
Wikia is a free-to-use site that makes money from advertising. We have a modified experience for viewers using ad blockers

Wikia is not accessible if you've made further modifications. Remove the custom ad blocker rule(s) and the page will load as expected.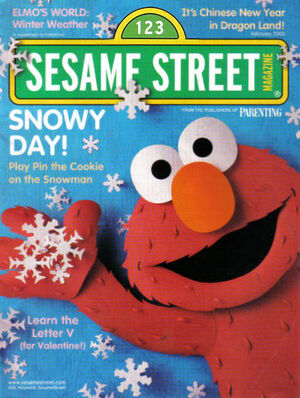 February 2003: An issue focused on wintry weather. Celebrates everything from playing out in the snow to making Valentines. The opening notes mention Elmo's birthday and provide a brief history of the work of Kevin Clash. David Dees, Stef de Reuver, Maggie Swanson, Sue DiCicco, Ernie Kwiat, Mary Beth Nelson, Joe Ewers, Donna Reynolds, Lizzy Rockwell, Colleen Pidel and Bob Berry provided illustrations for this issue. This issue also includes content from Sesame Street Sign Language ABC with Linda Bove.
Snowy Day
Perfect Day for a Picnic
Play With Me Sesame - You're Cold! You're Hot!
Elmo's World of Winter Weather
Pin the Cookie on the Snowman Pullout Poster with Cookie Monster
6 - Sneezes and Wheezes
V - Vincent and Vanessa are Making Very Fine Valentines
Sesame Safari - Animals in Winter
Dragon Tales - Shake Your Dragon Tail Cut-Out Board Game
Big Bird's Fridge
Hide-and-Seek - Find Cookie Monster and Oscar the Grouch