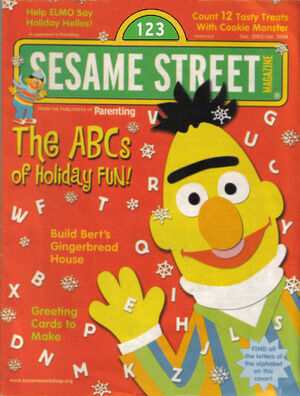 "The ABCs of Holiday Fun!" is the theme of this issue. The front cover features every letter of the alphabet. Maggie Swanson, Dave Calver, Tom Leigh, Karen Katz, Colleen Pidel, David Dees and Bob Berry provided illustrations for this issue. Leslie Kimmelman provided poem content for this issue. Some photo / illustration content in this issue was lifted from the book Sesame Street Sign Language ABC with Linda Bove. This issue is brought to you by the letter P and the number 12.
Includes a mini-poster called Lots of Letters featuring Santa Ernie and Twiddle-Elves.
Happy Holiday ABCs!
Alphabet Riddle Ride
Peace on Earth
12 Tasty Treats
Elmo's World of Holiday Greetings: Holiday Hellos!
Fix Up the Mix-Up
Sesame Safari: Zebras
Play With Me Sesame: Home, Sweet Home
Big Bird's Fridge
Happy Healthy Monsters Calendars --- December and January
Dragon Tales --- Snow Dragons
Ad blocker interference detected!
Wikia is a free-to-use site that makes money from advertising. We have a modified experience for viewers using ad blockers

Wikia is not accessible if you've made further modifications. Remove the custom ad blocker rule(s) and the page will load as expected.