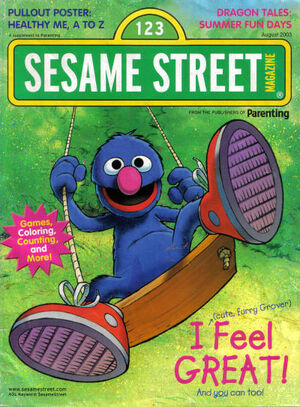 August 2003: Superkids! --- an issue focused on healthy habits to help kids feel super. Richard Termine, Maggie Swanson, Monica Wellington, Joe Ewers, Joe Mathieu and Colleen Pidel provided illustrations for this issue. This issue also includes content from Sesame Street Sign Language ABC with Linda Bove.
Big Bird and His Friends Play Outside
How We Stay Healthy... Head to Toe
Play With Me Sesame - Groove With Grover
Shape Up!
Z - Zippity-zooming!
5 - 5 Feels Fine
Healthy Me ABCs Pullout Poster
Sesame Safari - Veterinarians
Dragon Tales - Summer Sun Days
Big Bird's Fridge
Global Thingy - Meet Global Thingy and Friends Maze

Note: This was the first appearance of Global Thingy content within Sesame Street Magazine.
Ad blocker interference detected!
Wikia is a free-to-use site that makes money from advertising. We have a modified experience for viewers using ad blockers

Wikia is not accessible if you've made further modifications. Remove the custom ad blocker rule(s) and the page will load as expected.