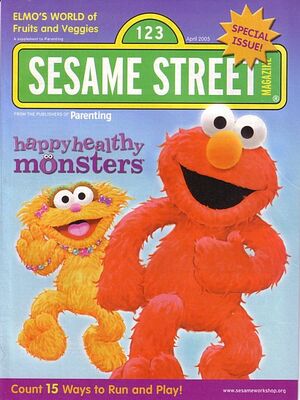 April 2005: This issue is designed to introduce the Happy Healthy Monsters, Sesame Workshop's campaign to encourage healthy habits in children. It notes that these concepts are explored during the 36th season of Sesame Street and offers games and poems. The back of the magazine includes an advertisement with a one-dollar coupon off two Earth's Best Sesame products.
The cover art is by Tom Leigh.
Ad blocker interference detected!
Wikia is a free-to-use site that makes money from advertising. We have a modified experience for viewers using ad blockers

Wikia is not accessible if you've made further modifications. Remove the custom ad blocker rule(s) and the page will load as expected.