The Sesame Street Learning Series is a collection of CD-ROM deluxe sets of Sesame Street computer games. These were released by the Children's Television Workshop and Creative Wonders in the late 1990's.
Toddlers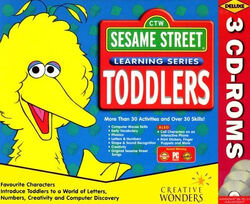 First released in 1997, Toddlers includes 3 CD-ROM reissues: Elmo's Art Workshop, Letters, and Numbers.
Elmo's Preschool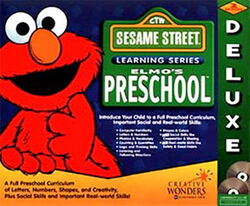 First released in 1997, the Elmo's Preschool deluxe set includes 2 CD-ROMs: Elmo's Preschool and Search and Learn Adventures.
Kindergarten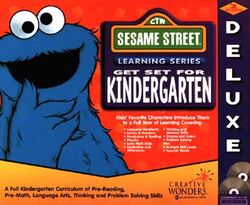 First released in 1997 as Get Set for Kindergarten, this set includes 2 CD-ROMs: Let's Make a Word! and Get Set to Learn!.
See also
Ad blocker interference detected!
Wikia is a free-to-use site that makes money from advertising. We have a modified experience for viewers using ad blockers

Wikia is not accessible if you've made further modifications. Remove the custom ad blocker rule(s) and the page will load as expected.