Ad blocker interference detected!
Wikia is a free-to-use site that makes money from advertising. We have a modified experience for viewers using ad blockers

Wikia is not accessible if you've made further modifications. Remove the custom ad blocker rule(s) and the page will load as expected.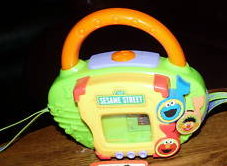 In 2002, Tiger Electronics (Hasbro), released a toddler version of their popular "HitClips" player, called KidClips. Intended for ages 3 and up, there were two retro-styled players: one that looked like a jukebox, and one that looked like a radio. Each came with one music cartridge; more music could be purchased separately. The original cartridges featured 60-second clips of popular Disney tunes. They were attached by cords to a chunky clip, and could be clipped onto a strap on the player to help keep them from getting lost.
A special radio-style player with Sesame Street graphics was produced, along with a number of song cartridges, including: