Sesame Street Home Video Visits the Firehouse
Talk

5
Share
Ad blocker interference detected!
Wikia is a free-to-use site that makes money from advertising. We have a modified experience for viewers using ad blockers

Wikia is not accessible if you've made further modifications. Remove the custom ad blocker rule(s) and the page will load as expected.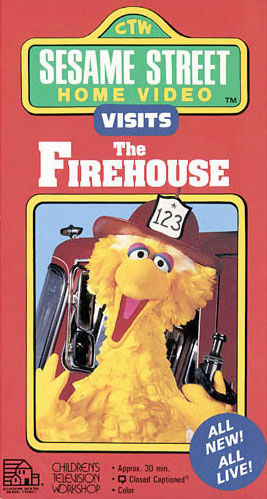 Sesame Street Home Video Visits the Firehouse was one of two "Sesame Street Visits" titles, as part of an intended series. Produced in 1990 and released by Random House in 1991, the programs featured the cast of Sesame Street learning about important locations related to health and safety issues. The companion title was Sesame Street Home Video Visits the Hospital.
In this video, a barrage of smoke in Oscar's trash can worries Big Bird, but Gordon assures him that if it is a fire, they can call the fire department. Called by another neighbor, the brigade arrives, led by Chief Kirby. The chief takes care of the situation, which was merely smoke without fire generated by Grouch cuisine Oscar is cooking up for a Grouch barbeque that he's having, and invites Big Bird, Gordon, Elmo, and Lissette to go back to the station with him. There, they learn about how firemen work and live, what they do between alarms, how fire equipment works, as well as important safety procedures and the value of smoke detectors. For added drama, the friends accompany the firemen on a real distress call, and observe the rescue of Mr. Monster, trapped in the attic of a third floor house.
Credits
Sesame Street Puppet Characters Performed by:
Puppets, Costumes, Props: Caroly Wilcox, Barry Link, Peter MacKennan
Music by: Stephen Lawrence
Lyrics by: Belinda Ward
Music Coordinator: Danny Epstein
Production Designers: Bob Phillips, Victor DiNapoli
Costume Designer: Bill Kellard
Set Decorator: Nat Mongioi
Production Assistants: Paul Lacy, Christine Ferraro, Martha J. O' Connor, Tim Carter, Adam Davidson
Assistant to the Producer: Danette DeSena
Sound Effects: Dick Maitland
Cameras: Frank Biando, Dave Driscoll, Tom Ucciferri
Director of Research: Valeria Lovelace, PhD
Vice President of Production: Franklin Getchell
Publisher, Random House Home Video: Sharon Lerner
Other releases
See also