Sesame Street Goes to Day Care
Talk

8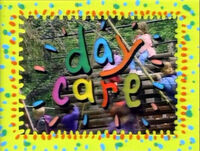 Sesame Street Goes to Day Care was a recurring segment which premiered in Season 30. It features a Muppet character interacting with a child at day care.

Segments
Picture
Summary / EKA
Description

Animal Guessing Game
Episode 3792
Telly and Baxter play an animal guessing game

Alphabet Song
Episode 3794
Elmo and Martel sings the alphabet song.

Alphabet Song
Episode 3806
Big Bird and Veronica say the alphabet.

Count to Ten
Episode 3816
Big Bird and Veronica count to ten.

Guessing Game
Episode 3822
Telly and Andrew play a guessing game.

Face Guessing Game
Episode 3828
Telly and Alexa play a guessing game based around parts of the face.

Alphabet Song
Episode 3837
Big Bird and Navona sing the alphabet song.

Firefighters
Episode 3840
Herry Monster and Baxter pretend to be firefighters.

Letter: S
Episode 3846
Telly and Vincent think of S words.

Counting parts of the face
Episode 3847
The Count counts the parts on Baxter's face.

Letter: H
Herry and Baxter talk about the letter, H, and what words start with it.
See also