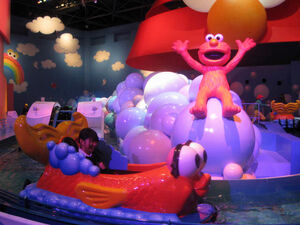 Sesame Street Fun World, a Sesame Street-themed part of the new "Universal Wonderland" area in Universal Studios Japan, opened on March 16, 2012.
Elmo's Imagination Playland
Sesame Central Park
Sesame's Big Drive
Big Bird's Climbing Nest
Abby's Magical Tree
Abby's Magical Garden
Water Garden
Cookie Monster Slide
Ernie's Rubber Duckie Race
Sesame Street Plaza
Elmo's Little Drive
Big Bird's Big Top Circus
External links
Ad blocker interference detected!
Wikia is a free-to-use site that makes money from advertising. We have a modified experience for viewers using ad blockers

Wikia is not accessible if you've made further modifications. Remove the custom ad blocker rule(s) and the page will load as expected.