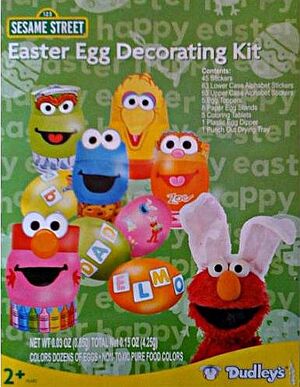 In 2009, Dudley's offered two Sesame Street Easter egg coloring kits. Both featured character stickers, letter and number stickers, 5 egg stands, 5 colors of egg dye, an egg dipper and a drying rack. Additionally, one set featured 5 egg character toppers (Oscar the Grouch, Big Bird, Cookie Monster, Zoe, and Elmo). The other set featured toppers for just Elmo and Abby Cadabby, and included stickers to create Elmo's mouth and hands, and Abby's mouth and freckles.
Ad blocker interference detected!
Wikia is a free-to-use site that makes money from advertising. We have a modified experience for viewers using ad blockers

Wikia is not accessible if you've made further modifications. Remove the custom ad blocker rule(s) and the page will load as expected.