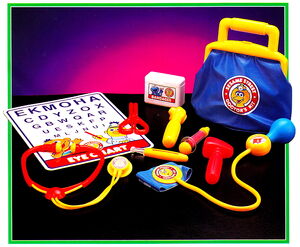 Sesame Street Doctor's Kit is a Sesame Street playset made by Tyco in 1993. The 10-piece set includes a bag, a stethoscope, a blood pressure gauge, a thermometer, a mallet, an earscope, a syringe, a pair of scissors, bandages and an eye chart. The pieces are decorated with pictures of Big Bird, Cookie Monster, Ernie and Bert.
Ad blocker interference detected!
Wikia is a free-to-use site that makes money from advertising. We have a modified experience for viewers using ad blockers

Wikia is not accessible if you've made further modifications. Remove the custom ad blocker rule(s) and the page will load as expected.