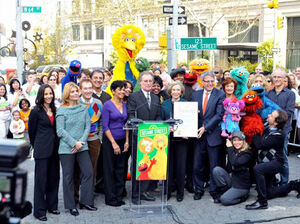 Sesame Street Day is the day of the 40th anniversary of the first broadcast of Sesame Street on November 10, 1969.
New York City, by a Mayoral Proclamation from Michael Bloomberg, established November 10, 2009 as "Sesame Street Day," a day to mark the show's 40th Anniversary. To celebrate, the corner of 64th Street and Broadway in Lincoln Square was temporarily renamed 123 Sesame Street with a dedication ceremony on November 9, 2009.
Sesamestreet.org celebrated its own "Sesame Street Day" throughout the week of November 10 - 17, 2009. The website features a celebratory playlist plus a special video greeting on the home page featuring Abby Cadabby along with Bert, Ernie, Rosita, Zoe, Herb, three penguins, Shelley, Elmo, Oscar the Grouch, Telly, The Count, Cookie Monster, Big Bird, Murray and Grover.
External links
Ad blocker interference detected!
Wikia is a free-to-use site that makes money from advertising. We have a modified experience for viewers using ad blockers

Wikia is not accessible if you've made further modifications. Remove the custom ad blocker rule(s) and the page will load as expected.