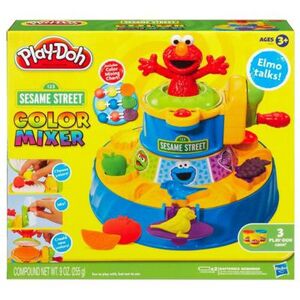 The Sesame Street Color Mixer is a 2011 Sesame Street Play-Doh playset made by Hasbro.
Product Description
"

Elmo loves colors! Spin the color wheel and Elmo will name the colors as they go by; when the wheel stops on a color, Elmo will talk about that color! Or your child can put two colors of PLAY-DOH compound in the mixer, crank the handle and create a whole new color! With all those new colors, your child can then mold, stamp and create fun designs out of the PLAY-DOH compound, or use it to match objects on the playmat. With this creative playset, your child has four ways to play and learn: color recognition, color mixing, molding and open-ended play!

Color Mixer playset comes with playmat, plastic knife, instructions and 3 three-ounce cans of PLAY-DOH Brand Modeling Compound.

Requires 2 "AA" batteries (not included)."
Ad blocker interference detected!
Wikia is a free-to-use site that makes money from advertising. We have a modified experience for viewers using ad blockers

Wikia is not accessible if you've made further modifications. Remove the custom ad blocker rule(s) and the page will load as expected.