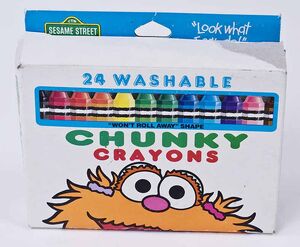 In 1994, Tyco released a set of Sesame Street chunky crayons. They are uniquely shaped so they won't roll away. There are 24 crayons in the set and can easily be formulated to be washable from most fabrics, walls and non-porous household surfaces. Zoe appeared on the front cover of the set.
Ad blocker interference detected!
Wikia is a free-to-use site that makes money from advertising. We have a modified experience for viewers using ad blockers

Wikia is not accessible if you've made further modifications. Remove the custom ad blocker rule(s) and the page will load as expected.