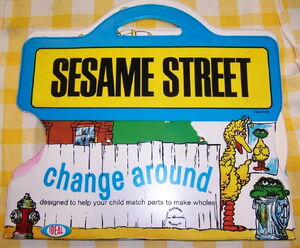 Sesame Street Change Around is a 1972 Sesame Street educational toy made by Ideal Toys. The vinyl toy is a flat, hinged sheet that opens to reveal two portraits of Sesame Street Muppet characters. Two discs on the sides of each portrait can be turned to change the head or the body of the character. By turning the discs, a child can mix and match heads and bodies.
The instructions on the back of the toy say: "Make whole pictures of Muppets by turning the dials on both sides of the Change Around. The Muppet posters in the illustration show correct matches. Also make mixed-up Muppets such as 'Cookie Hemlock' or 'Oscar the Bird'. Turn the dials freely to make as many mixes and matches as you can."
The Muppet illustrations include Big Bird, Oscar the Grouch, Cookie Monster, Sherlock Hemlock, Herry Monster, Roosevelt Franklin, the Amazing Mumford and a Twiddlebug.
See also
Ad blocker interference detected!
Wikia is a free-to-use site that makes money from advertising. We have a modified experience for viewers using ad blockers

Wikia is not accessible if you've made further modifications. Remove the custom ad blocker rule(s) and the page will load as expected.