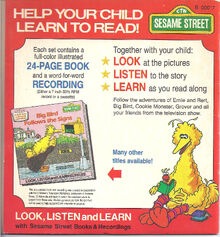 While the very first singles from Sesame Street were referred to as "book and record" sets on their packaging, they actually only contained song lyrics and pictures inside their books. The first true book and record sets, which contained a storybook and a recording of the text, were released in 1971 from Random House. They consisted of four stories written by Matt Robinson, and read by him in character as "Gordon of Sesame Street". The books were also available separately.
Sesame Street Records released their first series of book and record sets in 1981, featuring audio versions of some of their most well-known storybooks. Many of these sets featured the voices of the show's cast members, as well as a Sesame Street song after the story was completed. The first 24 titles have been reissued many times on records and cassettes since then, usually on the record company currently producing Sesame Street music titles. However, Fisher-Price also produced some titles in the 1980's. Later reissues appeared on Golden Music and Sony Wonder, along with new titles. In 2007, Studio Mouse began making a new series of book and CD sets.
See also
Ad blocker interference detected!
Wikia is a free-to-use site that makes money from advertising. We have a modified experience for viewers using ad blockers

Wikia is not accessible if you've made further modifications. Remove the custom ad blocker rule(s) and the page will load as expected.