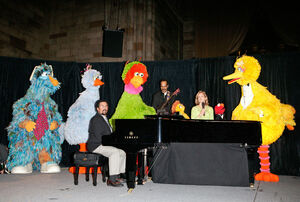 The Annual Sesame Workshop Benefit Gala is held at the Cipriani in New York City. Sesame Workshop hosts the evening as a fundraising event, and to honor outstanding individuals around the world who have contributed to education.
2003, 35th Anniversary
2004
2005
2006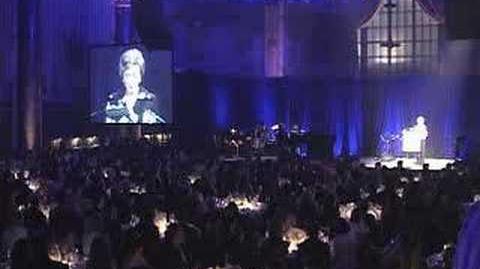 2007
2008
2009, 40th Anniversary
2010
2011
Date - June 1, 2011
Host - Deborah Roberts
Honored - Charles MacCormack, President and CEO, Save the Children and Merck, accepted by Richard T. Clark, Chairman of the Board
Attendees - Joan Ganz Cooney, Cheryl Henson, Gary Knell, Joel Schumacher, George Stephanopoulos, Paula Zahn
Muppets - Kami (Stephanie D'Abruzzo), Telly Monster, Abby Cadabby, Grover, Cookie Monster

Elvis Costello performed "Alison" with the Muppets. Stephanie D'Abruzzo served as announcer for the proceedings.
Cookie Monster was quoted as: "Cookie is a sometime food and vegetables is an everything food, so me just eat three centerpieces. But me hope cookies for dessert!" The centerpieces were made of yellow peppers and green apples.[1]
2012
Date - May 30, 2012
Host - Jon Stewart and Elmo
Honoring - Bill Clinton and UnitedHealthCare (represented by CEO Gail Boudreaux)
Attendees - Joan Ganz Cooney, H. Melvin Ming, Laura Brown, Lesli Rotenberg
Muppets - Elmo, Murray, Abby Cadabby, Zoe, Rosita, Oscar, Big Bird, Cookie Monster (Peter Linz)

The Muppeteers and their characters perform "Sing" and "We Are the World".
2013
Date - May 29, 2013
Hosts - Ali Wentworth and George Stephanopoulos
Honoring - Susie Buffett, Qualcomm
Attendees[2] - Joan Ganz Cooney, H. Melvin Ming, Cheryl Henson, Bob McGrath, Joel Schumacher, Dr. Paul E. Jacobs, Ann Lembeck Leary, Sarah Zeid, Bernie Williams
Muppets[2] - The Count, Cookie Monster, Oscar, Telly, Murray, Elmo (Ryan Dillon), Zoe, Abby Cadabby, Big Bird, Chickens, Penguins, AM Monster
The PS22 chorus performed "Ho Hey" and "Wonderwall." The hosts then performed "Sing" with the PS 22 chorus and the Sesame Street cast.
2014
Date - May 28, 2014
Hosts - The Sesame Street Muppets (Elmo, Abby, Grover, Cookie Monster, Big Bird)
Honoring - Joan Ganz Cooney
Attendees - Cheryl Henson, Joan Ganz Cooney, Ali Wentworth, George Stephanopoulos, Joel Schumacher, Barbara Walters, Diane Sawyer, Lesley Stahl
Muppets - Elmo, Cookie Monster, Murray, Count von Count, Zoe, Telly Monster, Abby Cadabby, Ernie (John Kennedy), Bert (John Tartaglia), Rosita, Grover, Prairie Dawn (Pam Arciero), Oscar the Grouch (Tyler Bunch), Big Bird
Musical guest Michael Buble performs "You Make Me Feel So Young," "Young at Heart" and "Sing"
2015
Date - May 27, 2015
Hosts - Nancy O'Dell and the Sesame Street Muppets
Muppets - Bert (John Kennedy), Elmo, Big Bird, Abby Cadabby, Murray Monster, Ernie, Rosita, Cookie Monster, Grover, Count von Count, Segi, Kami, Raya
Honoring - United States Ambassador to the United Nations, Samantha Power, and Google
Musical guest Sara Bareilles
2016
Sources
Ad blocker interference detected!
Wikia is a free-to-use site that makes money from advertising. We have a modified experience for viewers using ad blockers

Wikia is not accessible if you've made further modifications. Remove the custom ad blocker rule(s) and the page will load as expected.