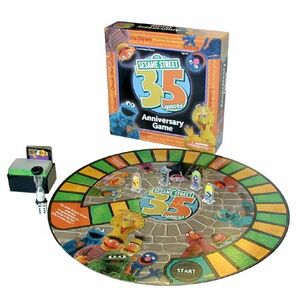 The Sesame Street 35 Years Anniversary Game is a trivia board game released by Rose Art in 2004 to celebrate the 35th Anniversary of Sesame Street. The game features two types of question cards, for "kids" and "adults". Players navigate around the circular board while answering timed questions. The "kids" questions are designed to be simpler and focus more on the more recent years of the show's history and characters or topics taught by Sesame Street. The "adult" questions tend to cover a more broad span of the show's history and characters. Questions are based mainly on characters and other "on-screen" information, and there is little attention given to behind-the-scenes or production information and history. There are multiple choice, single choice, and true or false questions. Some of the questions are accompanied by a picture of the relevant character or object.
Contents
Ad blocker interference detected!
Wikia is a free-to-use site that makes money from advertising. We have a modified experience for viewers using ad blockers

Wikia is not accessible if you've made further modifications. Remove the custom ad blocker rule(s) and the page will load as expected.