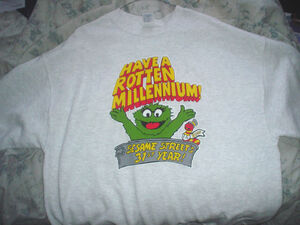 This is a rare sweater illustrated by Caroll Spinney, given to cast and crew members of Sesame Street during the 1999-2000 holiday season to commemorate the year 2000 and the 31st year of Sesame Street's production.
Main Graphics
In bold orange-yellow block lettering just above the sweater's central image read the words "HAVE A ROTTEN MILLENNIUM!"
Below this, the central graphic consists of Oscar the Grouch bursting out of his trash can, and Slimey as baby new year, wearing a top hat and diaper adorned with a flying "2000" ribbon. On the garbage can are the yellow bubble-letters reading "Sesame Street's 31st Year!" Spinney's signature can be seen under the handle of the garbage can running vertically.
The Sweater
The sweater itself is gray, cotton, and made by the Delta Company (shown here in size XL). It is unknown if other sizes and colors were produced. The back of the sweater is blank.
Ad blocker interference detected!
Wikia is a free-to-use site that makes money from advertising. We have a modified experience for viewers using ad blockers

Wikia is not accessible if you've made further modifications. Remove the custom ad blocker rule(s) and the page will load as expected.