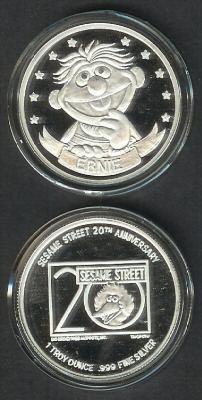 A set of six Sesame Street 20th Anniversary Coins was produced to celebrate Sesame Street's 20th anniversary in 1989.
The coins were housed in a hard plastic, air-tight capsule to protect the proof surfaces from tarnish and fingerprints. The capsules were housed in gift boxes with colorful inserts. The front of each coin depicts a Sesame character; the reverse has an anniversary logo.
The medallions come in both pure 999 silver one oz rounds and enamel colored pure silver one oz rounds.
The characters that were minted were: Bert, Ernie, Big Bird, Cookie Monster, Grover and Oscar the Grouch.
See also
Ad blocker interference detected!
Wikia is a free-to-use site that makes money from advertising. We have a modified experience for viewers using ad blockers

Wikia is not accessible if you've made further modifications. Remove the custom ad blocker rule(s) and the page will load as expected.