Sesame Street (comic book)
Talk

0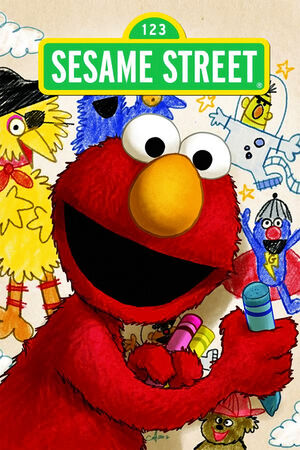 Sesame Street is a comic book series from Ape Entertainment based on the television show Sesame Street.
The first issue was scheduled for release in the fall of 2012,[1] but was pushed to April 2013,[2] and then to May 1st.[3]
| | | |
| --- | --- | --- |
| " | From television to the comic panel, Ape Entertainment will portray the characters that millions of parents and children have come to know and love in a comic series that will be produced in full color and available in stores this fall in standard comic sized printed editions for $3.99 and digest sized hardcover comic book editions for $7.99. They will also be available as a digital comic book that will be available through Apple's App Store for iPad, iPhone and iPod touch. | " |
Issues
Issue #1 - I is for Imagination
The first issue was released on May 1, 2013. There are six different covers (illustrated by Amy Mebberson), five of which interlock and become a larger image.
| | | |
| --- | --- | --- |
| " | Sunny Day! Chase the clouds away as Sesame Street comes to comics for the FIRST TIME! Join Elmo, Big Bird, Grover, Cookie Monster and all of your favorites in this fantastic first issue! Featured this issue, Elmo decides to become a superhero, but he doesn't have any powers! It will be up to the always lovable Super Grover to teach Elmo that he can have any superpowers he wants, because he already has the GREATEST superpower ...imagination! [2] | " |
Stories
"How To Read a Comic, Part 1": Elmo, Murray and Big Bird explain how the comics should be read.
"The Anatomy of a Hero": Super Grover shows Elmo the everyday heros.
"Smog Day Afternoon": Prairie and Oscar imagine where a horrible stench is coming from.
"A Dip in the Galaxy": Cookie visits the Moon.
"The Count Counts": The Count counts auto parts.
Issue #2
A follow-up to the first issue titled "Friendship" was originally scheduled for release on February 26, 2014, but ultimately was not released. A new installment of the Sesame Street comic series titled "Another Sunny Day" was released on October 28, 2015. A pre-existing variant cover illustrated by Jay Fosgitt depicting Ernie and Bert rowing on a lake is used as a preview image.[4][5]
| | | |
| --- | --- | --- |
| " | Join Cookie Monster as he enlists the help of his friends on Sesame Street to search for a missing picnic basket on a sunny day in the first in a new series of Sesame Street comic books. Additional Sesame silliness also included! [4] | " |
Stories
"How to Read a Comic, Part 2": Cookie Monster demonstrates how to read a comic.
"Cookie's Crumbles": Cookie Monster loses his picnic basket at the park, and his friends help him find it.
"The Flight Stuff": Ernie and Bert make paper airplanes..
"There's No I in Super Grover": After Ernie's paper airplane gets stuck in a tree, Super Grover (who can't fly due to his cape being torn) enlists Big Bird to help.
"An Imaginary Lunch": At lunch time, Blögg notices that something in his lunch bag is moving, and he, Abby Cadabby, and Gonnigan all imagine what it could be.
Issue #3
"Blast from the Past" was released on November 23, 2015.[6]
Issue #4
"Many Friendly Neighbors" will be released on January 1, 2016.[7]
Development
In October 2011, Ape Entertainment announced that they were in negotiations with Sesame Workshop to produce and publish Sesame Street comics - both as full-color print editions and as digital editions available through iTunes.
| | | |
| --- | --- | --- |
| " | We are incredibly excited about our current negotiations with Sesame Workshop and the possibility of being able to bring their expertise in educating and entertaining children to comics. I love the idea of creating educational comics that will both teach and entertain children. And the possibility of getting to work with Elmo, Big Bird, Cookie Monster and Grover, well...that's just a dream come true. | " |
— Brent Erwin, Ape Entertainment COO
Amy Mebberson created sample artwork for the first comic book. Aside from the street sign, the entire sample cover was watercolor; Mebberson is hoping to do the entire publication that way, like many of the classic Sesame Street books.[8] Early solicitation covers showed Elmo hanging from the Sesame Street lamppost, however the covered was changed due to concerns over negative imitatable behavior.
| | |
| --- | --- |
| | |
| Early solicited cover artwork, with Elmo hanging off the Sesame Street lamppost. | Altered to have Elmo sitting on Big Bird's wing. |
Sources
External links