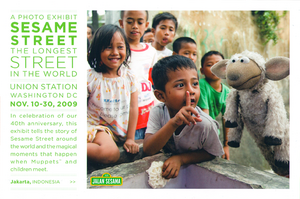 Sesame Street: The Longest Street in the World was an ongoing photo exhibit in honor of Sesame Street's 40th Anniversary. The exhibit took place in Washington, D.C. from November 10–30 in the Main Hall of Union Station and featured six free-standing panels showing images from Sesame Street and its international co-productions, with emphasis on those shows produced in developing nations.
See also
External links
Ad blocker interference detected!
Wikia is a free-to-use site that makes money from advertising. We have a modified experience for viewers using ad blockers

Wikia is not accessible if you've made further modifications. Remove the custom ad blocker rule(s) and the page will load as expected.