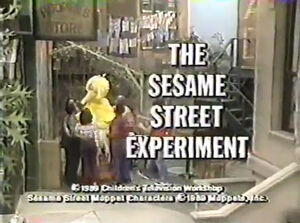 Sesame Street: The First Generation is an exhibition held at the Museum of Modern Art from November 11 to December 31, 1989. The exhibition celebrated the first 20 years of Sesame Street.
The exhibition featured weekend screenings of various Sesame Street related programs, including compilations of animated and live action films (hosted by Telly Monster and Oscar the Grouch), a showcase of international co-production segments (Sesame Street Around the World), early kinescope footage of the series and the feature film Follow That Bird. Screenings of Christmas Eve on Sesame Street were also held during the weeks preceding Christmas.
A fifteen minute mini-documentary, The Sesame Street Experiment, was screened daily at the John Edward Noble Education Center.
Sources
Ad blocker interference detected!
Wikia is a free-to-use site that makes money from advertising. We have a modified experience for viewers using ad blockers

Wikia is not accessible if you've made further modifications. Remove the custom ad blocker rule(s) and the page will load as expected.