Ad blocker interference detected!
Wikia is a free-to-use site that makes money from advertising. We have a modified experience for viewers using ad blockers

Wikia is not accessible if you've made further modifications. Remove the custom ad blocker rule(s) and the page will load as expected.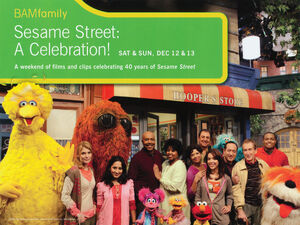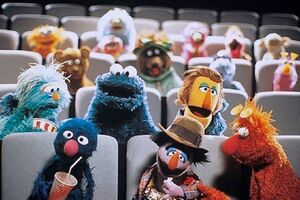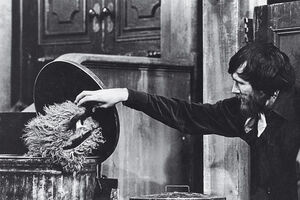 Sesame Street: A Celebration! is a series of film screenings for the 40th Anniversary of Sesame Street, hosted by the Brooklyn Academy of Music on December 12 and 13, 2009.
In October 2010, three selected programs from the series were shown at Yerba Buena Center for the Arts in San Francisco.
Saturday, Dec 12

12:00pm
Abby in Wonderland & Assorted Flights of Fantasy
With various fairy tale segments of Sesame Street News
2:00pm
Intro by Martin P. Robinson & Telly Monster
4:30pm
Sesame Street Film Festival
Ladybug Picnic, Pixar shorts, William Wegman's dogs, etc.
6:50pm
Followed by Q&A with the directors
9:30pm
Jim Henson and Friends: Inside the Sesame Street Vault
Intro by Craig Shemin & Stephanie D'Abruzzo
Sunday, Dec 13

12:00pm
Big Bird in China & More
2:30pm
Intro by Kevin Clash & Elmo
4:30pm
Intro by Craig Shemin & Stephanie D'Abruzzo
6:50pm
Sesame Street at 40: Milestones on the Street
Intro by and Q&A with Fran Brill & Prairie Dawn
9:30pm
Sing! Sesame Musical Moments
Intro by and Q&A with Fran Brill, Stephanie D'Abruzzo, and Prairie Dawn
External links