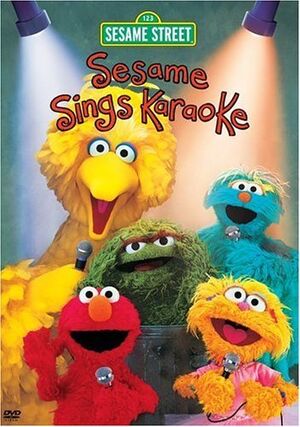 Sesame Sings Karaoke is a video release of the main storyline in Sesame Street Episode 4031, the Season 34 premiere.
In the story, Alan hosts a karaoke night at Hooper's Store. Baby Bear wants to sing a song with Telly, but Telly is too nervous to go on. However, when it's Baby Bear's turn, he gets too nervous, and Telly comes to his rescue.
Bob comes onstage to sing "The People in Your Neighborhood", but as he sings, the karaoke machine breaks down. Bob and the cast realize that they can still sing without the karaoke machine, and the Muppets run to get instruments.
DVD chapters
Many of the songs sung during karaoke night are intercut with other versions of the songs, including "A New Way to Walk", "Let's Go Driving", and "The People in Your Neighborhood".
Elmo Sings
Rosita and Elmo Meet at Last!
Elmo & Note Scat!
Hola Means Hello -- Rosita (Gloria Estefan clip)
New Way to Walk -- Gabi and Miles (Destiny's Child clip)
It's A Ladybug Picnic! -- Elmo, Gina & Alan
Let's Go Driving -- Baby Bear (With Telly's Help!)
The People in Your Neighborhood -- Bob & Friends (Ben Stiller clip)
The Alphabet Song -- Sing Along!
Other releases
Ad blocker interference detected!
Wikia is a free-to-use site that makes money from advertising. We have a modified experience for viewers using ad blockers

Wikia is not accessible if you've made further modifications. Remove the custom ad blocker rule(s) and the page will load as expected.