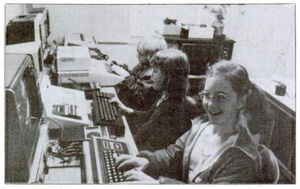 Sesame Place Game Center is an early attraction at Sesame Place, based around educational computer programs created specifically for the "innovative play park". Geared towards kids aged 3 to 10, the building had 20 to 50 "participatory exhibits" and displays. An additional fifty computers contained three to 10 programs, each with a specific educational goal in mind. Sound effects, music, and voices were included.
Atari created gaming hardware for the Game Center, which required tokens to operate; each token gave about 4 minutes of time on the systems.[1]
Children's Television Workshop credits the Game Center as Chris Cerf's brainchild; Cerf was then the Special Consultant to CTW. Jorce Hakansson directed CTW staff's development of the programs; consulting was provided by Creative Computing, the Lawrence Hall of Science, The Exploratorium, and Marin Computing Center. Funding and management came from Busch Gardens and Eric McMillan was the architect and play equipment designer.
A series of Sesame Place Game Centers were planned to be built across the United States, prior to the opening of Sesame Place in May 1980.
References
↑ Dale Peterson, "Intelligent schoolhouse: readings on computers and learning", Computers, 1984.
External links
Ad blocker interference detected!
Wikia is a free-to-use site that makes money from advertising. We have a modified experience for viewers using ad blockers

Wikia is not accessible if you've made further modifications. Remove the custom ad blocker rule(s) and the page will load as expected.