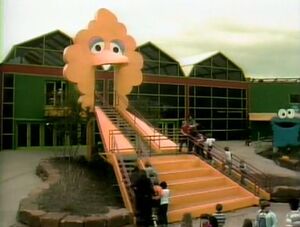 A Sesame Place theme park opened in Irving, Texas in 1982, but didn't find success, closing in 1984. Midway between Dallas and Fort Worth, the Busch Entertainment park was 7 acres, cost an estimated $10 million, and was targeted to children age 3-13. The park was located at 183 and Esters (37°14'37.59"N, 115°48'57.95"W); its parking lot is now a Walmart Supercenter, the park itself is a dollar store.
In a contrast to it's Pennsylvania counterpart, Texas' Sesame Place was mostly indoors. Like Tokyo Sesame Place, the park's entrance was Big Bird's head. Of note was a replica of 123 Sesame Street where an animatronic Big Bird head could be seen from behind the doors in his nest, while photo puppets of Grover, Bert, The Count and Prairie Dawn were in the windows. Right next door was a ball pit replica of Rosie with a figure of Ernie in the tub. There was also a rope course, flash shadow room, maze.
Stormie Jones, the 6-year-old recipient of the first simultaneous heart and liver transplant, was visited by three walkaround characters from the park. She had wanted to visit a theme park, but wasn't deemed fit to do so. The heart transplant lead to her eventual death in 1990. The Oak Ridge Boys music video for "Thank God For Kids" was filmed there, as was a segment of Jerry Haynes' local kids magazine format TV show Peppermint Place, which was syndicated in 108 US markets at one point.
External links