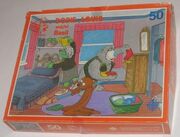 A Canadian company manufactured cardboard puzzles for Sesame Street Canada in 1988.
The copyright info on the side of the box says "© 1988 Children's Television Workshop, Sesame Street Muppet Characters © 1988 Muppets Inc." The longer side of the box has the CBC logo next to English and French text "Les Entreprises Radio-Canada, CBC Enterprises, Montreal, Quebec, H3C 3A8".
Ad blocker interference detected!
Wikia is a free-to-use site that makes money from advertising. We have a modified experience for viewers using ad blockers

Wikia is not accessible if you've made further modifications. Remove the custom ad blocker rule(s) and the page will load as expected.