Ad blocker interference detected!
Wikia is a free-to-use site that makes money from advertising. We have a modified experience for viewers using ad blockers

Wikia is not accessible if you've made further modifications. Remove the custom ad blocker rule(s) and the page will load as expected.
Songs from
Sesam
Released
1976
Format
LP
Label
CBS
Cat no.
CBS 81632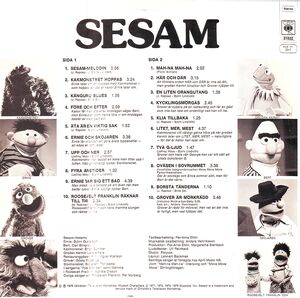 Sesam is the first Swedish album from Sesam, released by CBS in 1976. Although this album was made for the Swedish market, it was manufactured in the Netherlands.
Track listing
Side One
Sesam-melodin
(Raposo-Stone-Hart)
Kakmonstret hoppas (Ernie and Cookie Monster discuss hope)
Känguru blues
(Music by Joe Raposo, Lyrics by Brita Ek)
Före och efter (Bert Explains "Before" and "After)
Äta är en viktig sak
(Music by Joe Raposo, Lyrics by Björn Lindroth)
Ernie och skojaren (Ernie and Lefty the Salesman: Empty box)
Upp och ner
(Music by Jeff Moss, Lyrics by Björn Lindroth)
Fyra årstider (From the cartoon song about the four seasons (EKA: Episode 0276))
(Music by Jeff Moss, Lyrics by Björn Lindroth)
Ernie tar sig ett bad (Ernie prepares for his bath)
Roosevelt Franklin räknar till tio
(Music by Matt Robinson and Joe Raposo, Lyrics by Björn Lindroth)
Side Two
Mah-na Mah-na
(Music and Lyrics by Piero Umiliani)
Här och där (Kermit and Grover demonstrate "here" and "there")
En liten orangutang
(Music by Joe Raposo, Lyrics by Björn Lindroth)
Kycklingsmörgås (Cluck-Cluck Sandwich)
Klia tillbaka
(Music by Joe Raposo, Lyrics by Björn Lindroth)
Litet, mer, mest (Kermit and Cookie Monster demonstrate Some, More and Most)
Två g-ljud
(Music by Jeff Moss, Lyrics by Björn Lindroth)
Oväsen i sovrummet (Ernie and Bert go to bed, but they hear water dripping)
(including background music "Move move move" (Parker/Hawkshaw))
Borsta tänderna
(Music by Joe Raposo, Lyrics by Brita Ek)
Grover är mörkrädd (Grover is afraid of the dark)
(including Rock-a-bye-Baby, arr. Anders Henriksson)
Other releases
Cast
Other credits
Dialogue Written by Per-Arne Ehlin
Producers: Per-Arne Ehlin & Margaretha Stenbeck
Sound Effects: Ulf Reinhard
Studio: Polyvox
Layout: Lennart Backman