Sesame Street was first shown in Sweden in 1976 under the name Sesam, 26 of the American episodes were dubbed.
In 1981, Sweden started their own full co-production using the name Svenska Sesam.
A new batch of Open Sesame episodes were dubbed and shown on Sveriges Television from 1996 to 1998, under the same name.
Sesam (1976)
Character Translations and Voices
Additional Voice Actors
Additional credits
Per-Arne Ehlin: Dubbing director and producer
Sesam (1996-1998)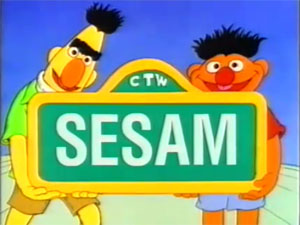 Character Translations and Voices
Additional Voice Actors
Cecilia Schiöld
Louise Raeder
Basia Frydman
Rolf Skoglund
Frej Lindqvist
Lars Risberg
Lasse Westmann
Lotta vig
Börs Anders Öhman
Erika Essen-Möller
Additional credits
Per-Arne Ehlin: Dubbing director, producer and translator
Liza Öhman: Musical director
See also