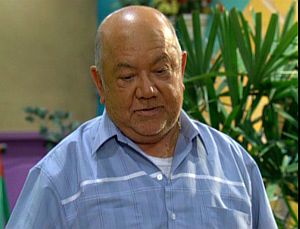 Sergio Corona (b. 1928) is a Mexican actor who currently plays Don Boni on Plaza Sésamo, replacing Edgar Vivar. Corona has been active in Mexican television and cinema since the 1950s.
Early in his career, he partnered with Alfonso Arau (later a noted director) as the comedy duo "Corona y Arau" who appeared in over half a dozen films between 1954 and 1960, along with television appearances. Later credits included appearances in a range of Mexican comedies and dramas, as well as the James Bond film License to Kill (as a bellboy). In recent decades, Corona has been a regular presence on telenovelas, in recurring roles or as a special guest star, on the likes of De Pocas Pocas Pulgas and La Fea Más Bella (the Mexican version of the Colombian soap Yo soy Betty, la fea).
External links
Ad blocker interference detected!
Wikia is a free-to-use site that makes money from advertising. We have a modified experience for viewers using ad blockers

Wikia is not accessible if you've made further modifications. Remove the custom ad blocker rule(s) and the page will load as expected.