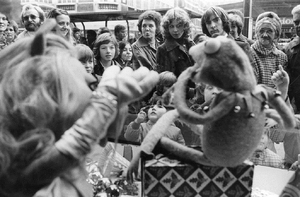 Selfridges is a chain of British department stores founded in 1909. Like Macy's in the United States, they have become world famous for their unique and ever-changing window displays. In 2013, the establishment inspired the ITV series Mr Selfridge, also aired on PBS.
Appearances
Kermit and Piggy appeared in a London window display on December 29, 1977.
A "stunt double" for Miss Piggy appeared in the window of a Selfridges, to celebrate the 30th anniversary of the birth of punk, starting with March 2006. Miss Piggy told Vogue UK: "Believe moi, I would love to spend six weeks in Selfridges! But if I'm going to be there, I want to be shopping, not standing in the window, sweetie!"[3]
As Location
Sources
↑ email communication with The Jim Henson Company Archives and Scott Hanson
↑ "How Much Is That Piggy In The Window?", Vogue UK. March 14, 2006.
Ad blocker interference detected!
Wikia is a free-to-use site that makes money from advertising. We have a modified experience for viewers using ad blockers

Wikia is not accessible if you've made further modifications. Remove the custom ad blocker rule(s) and the page will load as expected.