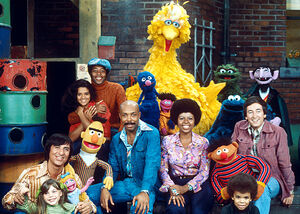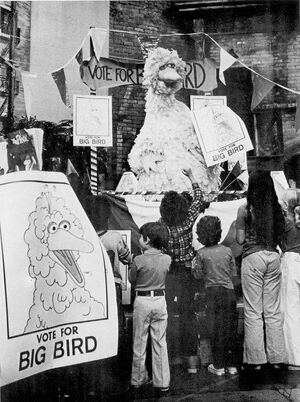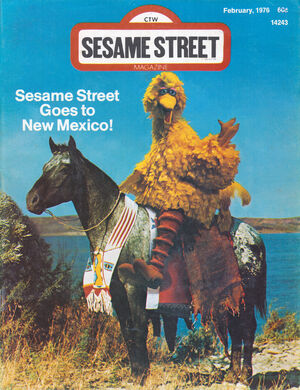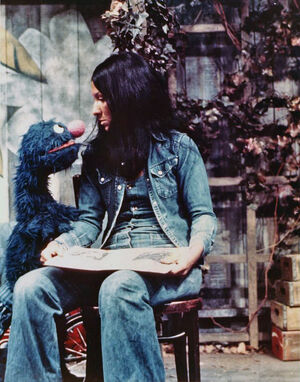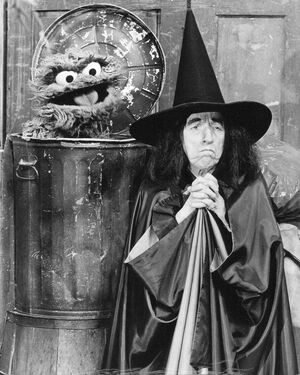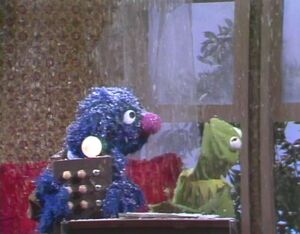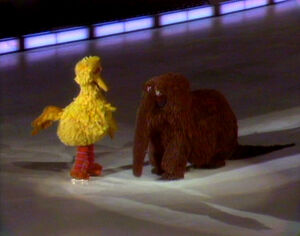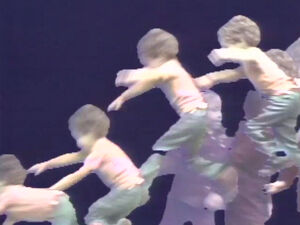 Sesame Street Season 7 aired from December 1, 1975 to May 28, 1976.
Overview
The curriculum for Season 7 focuses on children with learning disabilities through segments based on research by the Joseph P. Kennedy Foundation. The segments will be presented each Wednesday during the first 20 minutes of the program focus on physical activities mixed with some simple cognitive skills.
The Sesame Street Cast visits Luis's family in the Rio Grande Valley of New Mexico in the five part episode. Jon Stone says "By presenting children in the settings where they live we add realism and dramatic impact to our goal of teaching about different culture."[1]
Episodes
Episodes 0796 - 0925 (130 episodes)
Cast
Big Bird, Oscar the Grouch, Mr. Snuffleupagus, Ernie, Bert, Count von Count, Poco Loco, Cookie Monster, Grover, Kermit the Frog, Don Music, Mr. Johnson, Sherlock Hemlock, Sam the Machine, Fred the Wonder Horse, Herry Monster, Guy Smiley, Prairie Dawn, Lefty the Salesman, Headline Howie, Biff, Sully, Anything Muppets, Roosevelt Franklin, Harvey Kneeslapper
Credits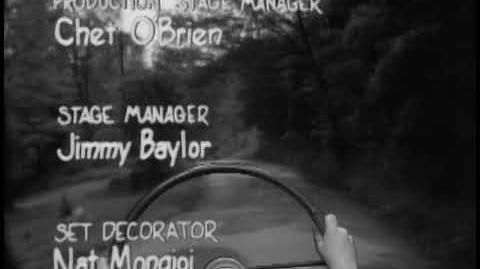 Executive Producer: Jon Stone
Producer: Dulcy Singer
Directed by: Robert Myhrum, Jon Stone
Writers: Ray Sipherd, Emily Perl Kingsley, Joseph A. Bailey, David Korr, Paul D. Zimmerman, Judy Freudberg
Music Director: Sam Pottle
Puppets and Costumes: Donald Sahlin, Kermit Love, Caroly Wilcox, John Lovelady
Supervising Film Producer: Edith Zornow
Associate Producer: Lisa Simon
Director of Operations: Ronald L. Weaver
Production Supervisors: Robert Braithwaite, Robert M. Dahl
Music Coordinator: Danny Epstein
Post Production Supervisor: Ozzie Alfonso
Associate Directors: Emily Squires, Jimmy Baylor
Assistant to the Producer: Amy Hutchings
Production Assistants: Joseph Catalano, Jane L. Delgado, Selvin Evans, Peggy Fulton, Brenda Huggins, Thelma Moses
Art Director: Alan J. Compton
Production Stage Manager: Chet O'Brien
Stage Manager: Jimmy Baylor
Set Decorator: Nat Mongioi
Costume Designer: Domingo Rodriguez
Graphic Artist: Gerri Brioso
Senior Scenic Artist: Victor DiNapoli
Unit Manager: Glenda Jones
Technical Director: Ralph Mensch
Technical Supervisor: Walt Rauffer
Lighting Director: George Riesenberger
Sound Effects: Barbara Wood
Audio: Bryan Keen, Blake Norton, Larry Stephens
Video: Bob Squittieri, Mark Sanford
Videotape Editors: John Hutchinson, Vincent Sims, Jack Langan
Make-up: Phyllis Grens Sternick
Hair Stylist: Mickey Lawrence
Wardrobe: Grisha Mynova
Curriculum Coordinator: Robert J. Emerick
Vice President for Research: Edward L. Palmer, Ph.D.
Associate Director of Research: Lewis Bernstein
Chairman, Board of Advisors: Gerald S. Lesser, Ph.D.
Vice President for Production: David D. Connell
Notes
This is the only season where the episode numbers don't appear on-screen.
Sources
↑ Eugene Register-Guard: "Sesame Street - Seventh season taking new directions .".