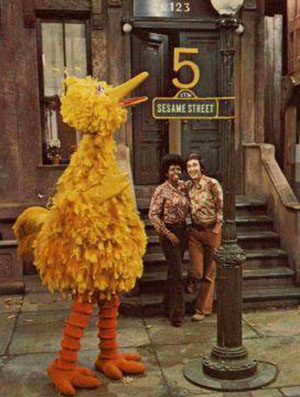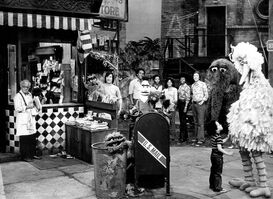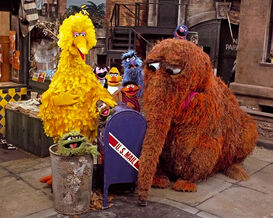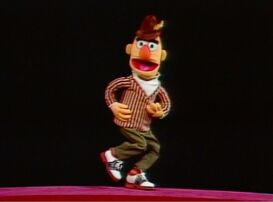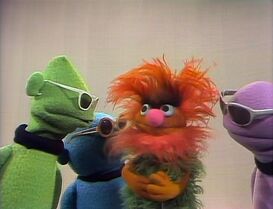 Sesame Street Season 5 aired from November 19, 1973 to May 17, 1974.
Season Overview
The curriculum for Season 5 is focusing on affect behavior, which includes lessons on emotions and feelings. Children will be able to recognize feelings and emotions including pride, love, fear, anger, surprise, happiness, and sadness taught through the human hosts, the Muppets, and animated films.[1]
Characters
This season introduces new Muppet characters including a group called the Twiddlebug Family[1] and two construction workers, Biff and Sully.[2]
Episodes
Episodes 0536 - 0665 (130 episodes)
Notes
Season 5 Cast
Cast:
Muppet Performers:
Season 5 Credits
Executive Producer: Jon Stone
Producer: Robert Cunniff
Director: Jon Stone
Head Writer: Jeffrey Moss
Writers: Norman Stiles, Emily Perl Kingsley, Ray Sipherd, Jeffrey Moss, Daniel Wilcox, Joseph A. Bailey, Jerry Juhl, Jon Stone
Supervising Film Producer: Edith Zornow
Associate Producer: Joan Lufrano
Production Assistant: Judy Freudberg
Music Director: Joe Raposo
Music Coordinator: Danny Epstein
Set Decorator: Nat Mongioi
Art Director: Alan J. Compton
Associate Director: Emily Squires
Production Stage Manager: Chet O'Brien
Senior Scenic Artist: Victor Di Napoli
Sound Effects: Dick Maitland, Barbara Wood
Cameras: Frank Biondo
Curriculum Coordinator: Robert J. Emerick
Vice President for Research: Dr. Edward L. Palmer
Assistant Director of Research: Patricia Hayes
Chairman, Board of Advisors: Gerald S. Lesser, Ph.D.
Vice President for Production: David D. Connell
Sources
↑ 1.0 1.1 The Virgin Islands Daily News: Sesame Street Back In Its Fifth Season
↑ 2.0 2.1 The Deseret News: 1...2...3...4...5 for Sesame St.