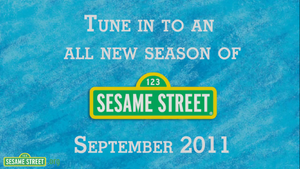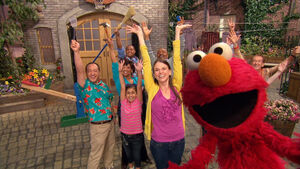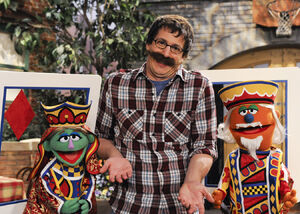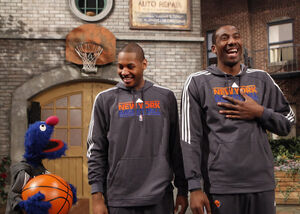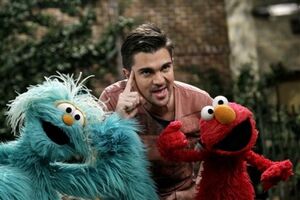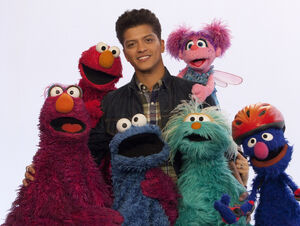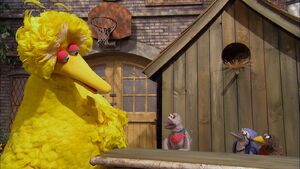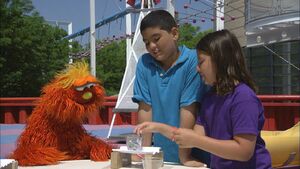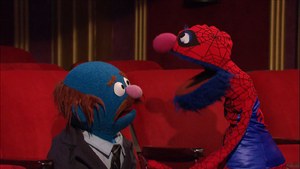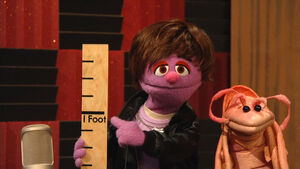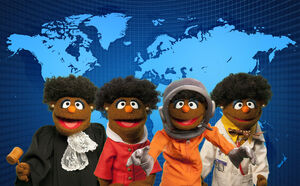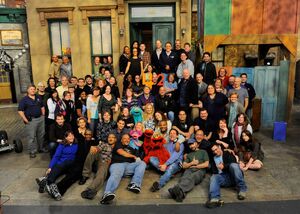 Sesame Street's 42nd season began production on February 8, 2011[1] and wrapped May 20, 2011, with other inserts taped following that date. Half the street stories and select inserts for season 43 were shot during this time as well.[2] Episodes premiered on September 26, 2011.
Overview
The season continues to focus on the STEM curriculum; encouraging children to think critically about science, technology, engineering and math. The curriculum helps children develop a better understanding of how things work, and builds stronger cognitive reasoning, critical thinking and problem solving skills.
One episode this season, written by Annie Evans, is titled "BubbleFest" and stars Telly, Abby and Elmo.[3] Ernie and Bert are featured in an episode in which they search for a place to spend the night when their apartment becomes flooded. At one point, they stay at Gordon and Susan's and some sheep dance into the scene.[4] Another episode celebrating Hispanic Heritage Month features Gina and Rosita teaching Latino culture to Marco.[5](YouTube)
A new "tune-in" segment, "Murray's Science Experiments", has Murray Monster ask a scientific question and sets up an experiment to find the best answer to his question. With help from Ovejita and some kids, Murray observes, investigates and discovers the answers to his questions. New segments of Super Grover 2.0[6][7] and Abby's Flying Fairy School return from last season. What's the Word on the Street and The Word of the Day also return with 26 new words.
The season featured many new guest appearances. Grover appeared in a segment with Amar'e Stoudemire and Carmelo Anthony of the NY Knicks.[8] Other celebrities appearing in the 42nd season include: Craig Ferguson,[9] Jesse Tyler Ferguson,[10] Sofia Vergara,[11] and Joel McHale.[12] In season 42, there are guests from The Daily Show (YouTube). Broadway-star Sutton Foster appears in a new song, "Lever Lover."OK Go filmed an insert, performing a song about mixing colors.[13]
Parodies
Among the spoofs this season are "Heaviest Catch" (parody of the TV show Deadliest Catch), "Ate My Red Two" (spoof of Elvis Costello's "(The Angles Wanna Wear My) Red Shoes"), "Measure, Yeah, Measure" (parody of Justin Bieber's "Never Say Never"), "G" (parody of the TV show Glee) and "SpiderMonster the Musical" (spoof of Spider-Man: Turn Off the Dark).
Episodes
44 Episodes (4257-4300)
Notes
Characters
Big Bird, Mr. Snuffleupagus, Elmo, Abby Cadabby, Zoe, Rosita, Cookie Monster, Grover, Baby Bear, Curly Bear, Telly, Oscar the Grouch, Ernie, Bert, Murray Monster, Ovejita, Count von Count, Mr. Johnson, Two-Headed Monster, Stinky the Stinkweed, Prairie Dawn, Little Bo Peep, Slimey, Horatio the Elephant, Keith Heartburn, The Amazing Mumford, Anything Muppets, Sheep, Mr. Yak, Segi
Cast
Pam Arciero, Jennifer Barnhart, Rickey Boyd, Fran Brill, Tyler Bunch, Leslie Carrara-Rudolph, Kevin Clash, Bruce Connelly, Stephanie D'Abruzzo, Eric Jacobson, John Kennedy, Peter Linz, Jim Martin, Joey Mazzarino, Paul McGinnis, Jerry Nelson, Carmen Osbahr, Frank Oz, Martin P. Robinson, David Rudman, Matt Vogel, Steve Whitmire, Bryant Young
Guest stars[14]
Sara Sweetman appears in "Murray's Science Experiments" segments.
Credits
Executive Producer: Carol-Lynn Parente
Co-Executive Producer: Kevin Clash
Coordinating Producer: April Chadderdon
Senior Producer: Tim Carter
Line Producer: Stephanie Longardo
Producers: Melissa Dino, Benjamin Lehmann
Directors: Kevin Clash, Ken Diego, Moses Edinborough, Jim Martin, Joey Mazzarino, Scott Preston, Lisa Simon, Matt Vogel, Nadine Zylstra
Head Writer: Joey Mazzarino
Writers: Molly Boylan, Annie Evans, Christine Ferraro, Judy Freudberg, J Milligan, Emily Perl Kingsley, Sonia Manzano (uncredited), Luis Santeiro, Belinda Ward, John Weidman, Ed Valentine
Film & Animation Producers: Christine Walters, Kimberly Wright
Additional Voices For Abby's Flying Fairy School: Jeremy Redleaf, Jessica Stone
Abby's Flying Fairy School characters designed by: Peter de Seve
Puppets, Costumes, Props: Jason Weber with Connie Peterson, Rollie Krewson, Polly Smith, Michelle Hickey, Andrea Detwiler, Lara MacLean, Loryn Brantz, Colette Nickola, Marc Borders, Heather Asch
Music Director: Bill Sherman
Music Director - Arrangements: Joe Fiedler
Music Director - Studio: Paul Rudolph
Music Coordinator: Gaellissa Francis
Composers: Jon Baker, Eli Bolin, Joe Fiedler, Chris Jackson, Alex Lacamoire, Stephen Lawrence, Janis Liebhart, Chris Miller, Lin-Manuel Miranda, Raymond Basho Mosko, Justin Paul, Alan O'Day, Kathryn Raio, Mark Radice, JP Rende, Bill Sherman, Nathan Tysen, Russell Velazquez, PT Walkey
Set Designer: Bob Phillips
Art Direction/Graphics: Pete Ortiz
Prop Coordinator: Keith Olsen
Associate Directors: Frank Campagna, Tim Carter, Emily Cohen, Ken Diego, Leigh E. Gallagher, Dylan Hopkins, Benjamin Lehmann
Control Room PA: Leigh E. Gallagher, Geri Cole, Jane Lee, Ashmou Younge
Sound Effects Editor/Re-recording Mixer: Dick Maitland, C.A.S
Technical Director: Tom Guadarrama
Cameras: Frank Biondo, Jerry Cancel, Shaun Harkins
Production Assistants: Geri Cole, Julia Guidera, Stephanie Maio, Andrew Moriarty, Rachel Smith
Vice President of Education and Research: Rosemarie T. Truglio, Ph.D.
Special Thanks To: Definition 6, Hyperactive Pictures, Magnetic Dreams, Speakeasy FX, Tony Testa, Yellow Sound Lab
Taped at Kaufman Astoria Studios in New York
Sources
External links
Ad blocker interference detected!
Wikia is a free-to-use site that makes money from advertising. We have a modified experience for viewers using ad blockers

Wikia is not accessible if you've made further modifications. Remove the custom ad blocker rule(s) and the page will load as expected.