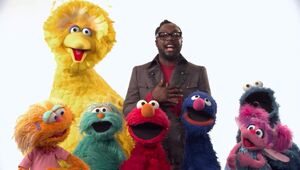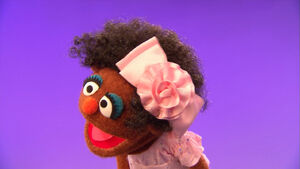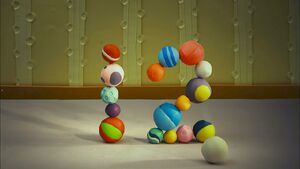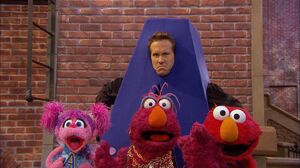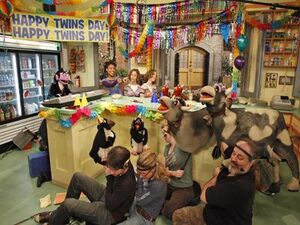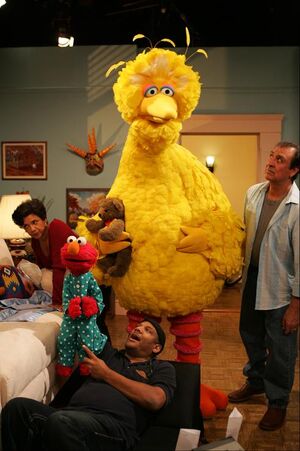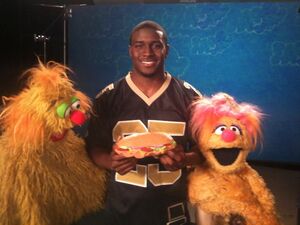 Sesame Street's 41st season began production in September 2009; episodes premiered on September 27, 2010.[1]
Season overview
The season continues the show's two-year initiative "My World is Green & Growing," an initiative embracing a robust science and mathematics curriculum. For season 41, Sesame Street will address the processes of scientific investigation, with 13 shows focused on this topic. One of the main curricular goals is to encourage children to think scientifically and to model the scientific process.[2]
The 4th Annual aniBOOM Awards, aniBOOM Awards 4 Sesame Street, decided a new educational, animated short that will debut this season,[3] a stop-motion remake of "Pinball Number Count".[4] The other finalists also appear during the season.
A new segment, Super Grover 2.0, debuted this season and alternates with new segments of Bert and Ernie's Great Adventures with each episode. Abby's Flying Fairy School returns from last season with three new segments. What's the Word on the Street and The Word of the Day also return with 25 new words.
The segment "I Love My Hair" went viral in mid-October 2010, getting a large amount of press coverage, for encouraging positive attitudes amongst African-American viewers towards their hair. Earlier in the season, Katy Perry's parody of her song "Hot n' Cold" attracted negative attention, due to controversy over her outfit; it was removed from the broadcast season.
Parodies
Parody segments this year include "The Elmo Slide" ("The Cha Cha Slide"), "The Closer" and "True Mud" (True Blood).
Episodes
Episodes 4213 - 4256 (44 episodes)
Notes
Characters
Cast
Pam Arciero, Billy Barkhurst, Jennifer Barnhart, Fran Brill, Tyler Bunch, Leslie Carrara-Rudolph, Kevin Clash, Bruce Connelly, Stephanie D'Abruzzo, Eric Jacobson, John Kennedy, Tim Lagasse, Peter Linz, Jim Martin, Joey Mazzarino, Paul McGinnis, Tracie Mick, Jerry Nelson, Carmen Osbahr, Frank Oz, Martin P. Robinson, David Rudman, Matt Vogel, Steve Whitmire, Bryant Young
Guest stars[1]
Credits
Executive Producer: Carol-Lynn Parente
Coordinating Producer: April Chadderdon
Senior Producer: Tim Carter
Line Producer: Stephanie Longardo
Producers: Melissa Dino, Benjamin Lehmann
Directors: Kevin Clash, Ken Diego, Moses Edinborough, Jim Martin, Ted May, Joey Mazzarino, Scott Preston, Lisa Simon, Matt Vogel, Nadine Zylstra
Head Writer: Joey Mazzarino
Writers: Molly Boylan, Annie Evans, Christine Ferraro, Judy Freudberg, J Milligan, Emily Perl Kingsley, Luis Santeiro, Ed Valentine, Belinda Ward, John Weidman
Production Designer: Bob Phillips
Film Producer: Christine Walters
Additional Voices For Abby's Flying Fairy School: Jeremy Redleaf, Jessica Stone
Abby's Flying Fairy School characters designed by: Peter de Seve
Puppets, Costumes, Props: Jason Weber with Connie Peterson, Rollie Krewson, Polly Smith, Michelle Hickey, Lara MacLean, Chelsea Carter, Marc Borders, Molly Light, Loryn Brantz
Music Director: Bill Sherman
Music Director - Arrangements: Joe Fiedler
Music Director - Studio: Paul Rudolph
Music Coordinator: Vicki Levy
Composers: Joe Fiedler, Chris Jackson, Stephen Lawrence, Mark Radice, Kathryn Raio, JP Rende, Paul Rudolph, Adam Schlesinger, Bill Sherman, Russell Velazquez
Art Director: Bob Phillips
Art Direction/Graphics: Rickey Boyd, Pete Ortiz
Prop Coordinator: Keith Olsen
Associate Directors: Frank Campagna, Tim Carter, Emily Cohen, Ken Diego, Leigh E. Gallagher, Dylan Hopkins, Benjamin Lehmann
Sound Effects Editor/Re-recording Mixer: Dick Maitland, C.A.S
Technical Director: Tom Guadarrama
Cameras: Frank Biondo, Jerry Cancel, Shaun Harkins, Aaron Medick
Production Assistants: Geri Cole, Shevaun Gray, Stephanie Maio, Nolan Maloney, Andrew Moriarty, Ashmou Younge
Vice President of Education and Research: Rosemarie T. Truglio, Ph.D.
Special Thanks To: Creative Bubble, Hyperactive Pictures, Magnetic Dreams, Misseri Studio, Speakeasy FX, Tony Testa, Yellow Sound Lab
Taped at Kaufman Astoria Studios in New York
Sources
↑ Sesameworkshop.org. Sesame Workshop and The PNC Foundation Join White House Effort on STEM Education (archive)
↑ Evans, Annie. "Don't Wake The Baby" Shoots. Sesame Family Robinson. October 9, 2009. (archive)
External Links
Ad blocker interference detected!
Wikia is a free-to-use site that makes money from advertising. We have a modified experience for viewers using ad blockers

Wikia is not accessible if you've made further modifications. Remove the custom ad blocker rule(s) and the page will load as expected.