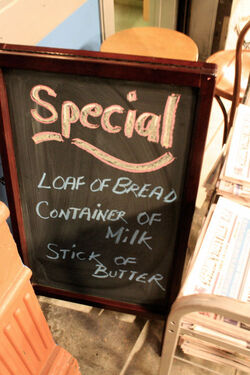 Hidden Gems are special, fan-geared throwbacks to classic Sesame Street moments, including characters and staff seen during the street scenes of the 40th Anniversary season.
In a 2009 interview by the fansite Tough Pigs, head writer Joey Mazzarino promised:
"

We're trying to do what we call a gem in every episode. That's for you guys, the fans. Little things like Biff and Sully in a scene, or some other stuff that I won't tell you about that will be hidden in the scene. There's one, the writing on the sandwich board outside of Hooper's Store reads, "Loaf of bread / Container of milk / Stick of butter". We'll try to get one of those in most of the episodes this season.[1]

"
The graphic-based gems were designed by Pete Ortiz, who remarked about the in-jokes:
"

Almost every morning for the 40th season I was greeted with "what's the gem?" We had archives being pulled from all over to fit all the show needs as well as preventing them from being to obvious. The best part was making duplicates of the TEENY SUPER GUY and owning a little history.[2]

"
See also
Sources
↑ Hennes, Joe. "A Chat with Joey Mazzarino, part 2", ToughPigs.com. February 25, 2009.
↑ Sesamestreet.org Episode Guide from 2009 (archive site link)
Ad blocker interference detected!
Wikia is a free-to-use site that makes money from advertising. We have a modified experience for viewers using ad blockers

Wikia is not accessible if you've made further modifications. Remove the custom ad blocker rule(s) and the page will load as expected.