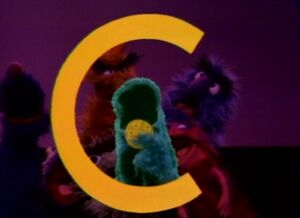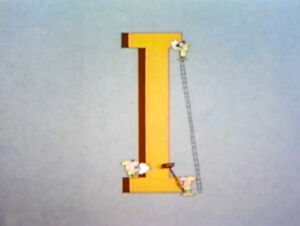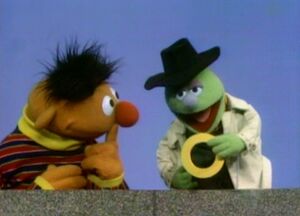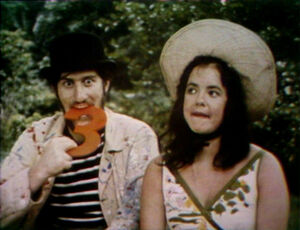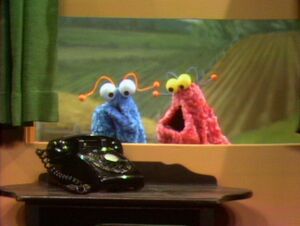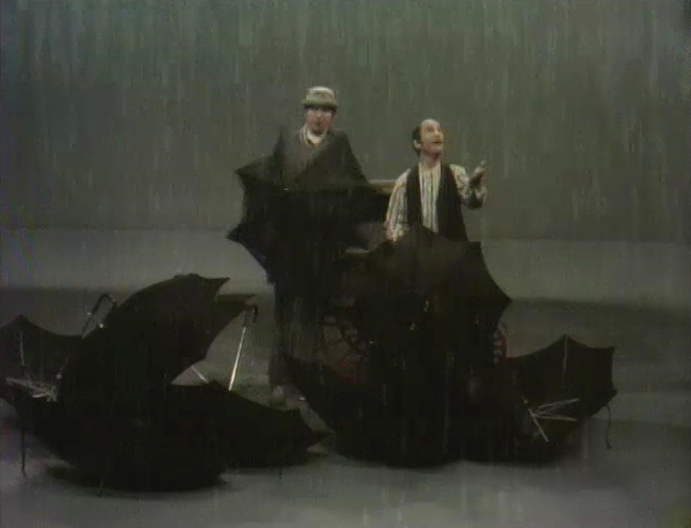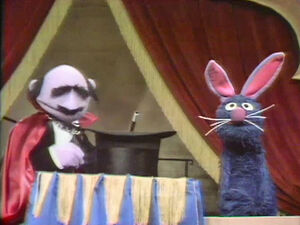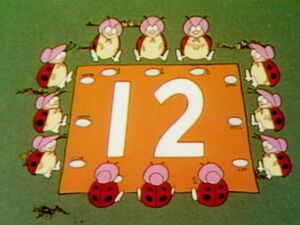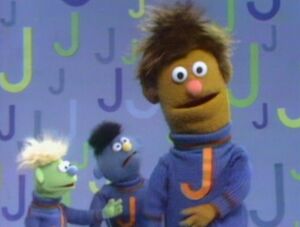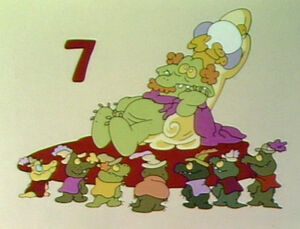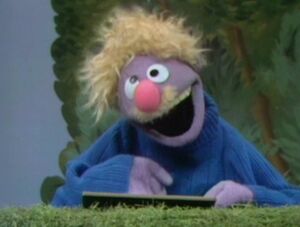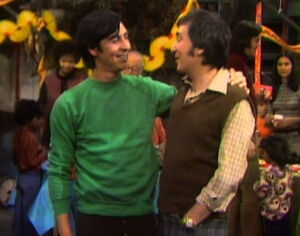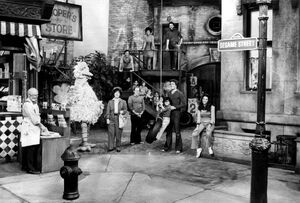 Sesame Street Season 3 aired from November 15,[1] 1971 to May 12, 1972.
Overview
The curriculum for Season 3 will focus on the subject of ecology. In an interview, Jon Stone said about the ecology segments will "stress the interdependence of living things and the finiteness of the earth's resources. Pre-schoolers are extremely curious about the world around them, so we think they'll be very interested in how things they see are related to each other." Season 3 will also focus on Spanish language and culture.[2]
Characters
Luis, Maria, Rafael, and Molly join the cast. Linda is introduced. Larry and Phyllis are now gone, and replaced by a new comedy duo, Wally and Ralph.
Kermit the Frog returns in new material, having been absent the previous year. A new Muppet character, Mr. Snuffleupagus, is introduced. During this season, Mr. Snuffleupagus has bright yellow eyes, and no eyebrows or eyelids. This will be changed by the next season. Also at this point, Mr. Snuffleupagus is thought by the adults to be Big Bird's imaginary friend. Other new Muppet characters introduced this season include Mr. Johnson, The Amazing Mumford, Harvey Kneeslapper, The Martians and The Busby Twins.
Segments
In addition to Wally and Ralph, this season also features the debut of The Mad Painter, a man who would paint numbers on various objects. A recurring series of animated segments features Donnie Budd, a hillbilly fiddle player who sings about the numbers 2-6. These segments were created by Budd Luckey, who also created many other animated segments for this season, including The Alligator King and Ladybug Picnic.
Episodes
Episodes 0276 - 0405 (130 episodes)
Notes
This is the first season where the credits acknowledge the fact that Caroll Spinney performs both Big Bird and Oscar the Grouch, and credit him with the human cast instead of with the other Muppet performers.
Fran Brill, included in the previous season's credits, is omitted from the roster, but still performs.
Season 3 was set to air "about 300 stations, more than broadcast any other program on American TV".[3]
This is the last season to feature Matt Robinson as Gordon.
This is the first season to have part of the sponsors announced before the credits on Friday episodes.
This is the last season in which, for Friday episodes, the street story's closing scene would continue under the credits. Later, a new illustrated credit crawl was introduced.
Cast
Cast:
Muppet Performers:
Caroll Spinney, Frank Oz, Jim Henson, Jerry Nelson, Fran Brill, Richard Hunt (uncredited)
Muppets:
Big Bird, Oscar the Grouch, Ernie, Bert, Kermit the Frog, Cookie Monster, Grover, Mr. Snuffleupagus, Herbert Birdsfoot, Mr. Johnson, Harvey Kneeslapper, Roosevelt Franklin, Farley, Prairie Dawn, Herry Monster, The Busby Twins, Mumford, The Martians, Lefty the Salesman, Betty Lou, Farley, Simon Soundman, Guy Smiley, Sherlock Hemlock, Little Bird, Professor Hastings, Granny Fanny Nesselrode, The Mudman, Bip Bippadotta, Little Jerry and the Monotones, Anything Muppets
Guest Stars:
Credits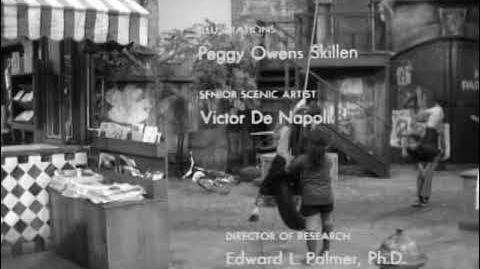 Executive Producer: David D. Connell
Producer: Jon Stone
Directors: Joost Van Rees, Jim Henson
Writers: Jeff Moss, Robert Oksner, Ray Sipherd, Jerry Juhl, Daniel Wilcox, Emily Perl Kingsley, Norman Stiles, Jon Stone
Music Director: Joe Raposo
Supervising Film Producer: Edith Zornow
Film Producer: Shyrlee Dallara
Film Production Crew: Dorothy Tod, Madeline Anderson, Margaret M. Murphy
Associate Producers: Dulcy Singer, Joan Lufrano, Aida Monares
Muppet Costume Designers: Kermit Love, Caroly Wilcox
Music Coordinator: Danny Epstein
Special Songs: Jeff Moss, Joe Raposo
Muppet Associate Director: Richard C. Pepperman
Associate Director: Emily Squires
Illustrator: Peggy Owens Skillen
Production Supervisor: Lynn Klugman
Art Director: Alan J. Compton
Production Stage Manager: Chet O'Brien
Stage Manager: Jimmy Baylor
Property Coordinator: Nat Mongioi
Graphics: Elaine Booth Marin
Costume Designer: Mostoller
Senior Scenic Artist: Victor Di Napoli
Production Assistants: Lisa Simon, Ozzie Alfonso, Laurie Krosney
Director of Operations: Ronald L. Weaver
Unit Manager: Glenda Jones
Technical Director: Bob Brooks
Technical Supervisor: Walt Rauffer
Lighting Director: George Risenberger
Sound Effects: Terry Ross, Barbara Wood
Audio: Mike Shoskes, Bob Freeman
Video: Bob Squittheri
Videotape Editors: Vincent Sims, John Hutchison, Jack Langan, Joe Commare
Make-Up: Phyllis Grens Sternick
Hair Stylist: Mickey G. Lawrence
Wardrobe: Ruby Hawkins
Director of Research: Edward L. Palmer
Chairman, Board of Advisors: Gerald S. Lesser
Recorded at Teletape's 81st. Street Studio
Sources
↑ newspaper listings; Old School: Volume 1 displays an incorrect date on the menu for Episode 0276
↑ Pittsburgh Post-Gazette: Revamped 'Sesame Street' Opens 3rd Season Nov. 15
↑ Andrew H. Malcolm (New York Times Service), "Educators gearing up for Sesame Street 'alumni'" St. Petersburg Times, October 18, 1971.