Sesame Street
Premiere
November 21, 1994 (3266)
Finale
May 19, 1995 (3395)
Episodes
130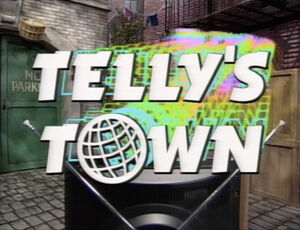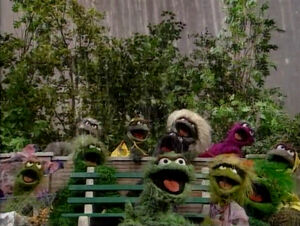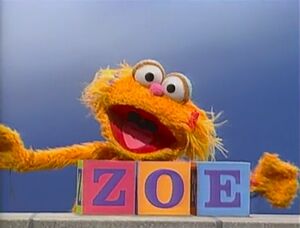 Sesame Street Season 26 aired from November 21, 1994 to May 19, 1995.
Season Overview
This season focuses on the importance of books. Its literacy campaign, "Let's Read and Write," initiated by executive producer Michael Loman, served as the theme for that year's Macy's Thanksgiving Day Parade float.[1][2]
Episodes
Episodes 3266 - 3395 (130 episodes)
Notes
After this season, The U.S. Department of Education stopped funding Sesame Street until 2002.
This was also the final season to be funded by the Ford Foundation and the Carnegie Corporation of New York, which had both been there from the very beginning of the show's history.
This was also the final season to have the Sesame Street/CTW in-credit logo.
This was also Savion's final season.
This was the final season until Season 38 to have two letter sponsors (not counting repeats).
Cast
Human Cast:
Muppets:
Alice Snuffleupagus, Anything Muppets, Baby Bear, Baby Natasha, Baby Tooth and the Funky Funk, Benny Rabbit, Bert, Biff, Big Bird, Buster the Horse, Clementine, Cookie Monster, Count von Count, Cyranose de Bergerac, Elmo, Ernie, Forgetful Jones, Frazzle, Fur Jam, Grouches, Grover, Grundgetta, Guy Smiley, Herry Monster, Hoots the Owl, Humphrey, Ingrid, Joey and Davey Monkey, Kermit the Frog, Kingston Livingston III, The Martians, Monty, Oscar the Grouch, Prairie Dawn, Rosita, Roxie Marie, Sherlock Hemlock, Sherry Netherland, Slimey, Mr. Snuffleupagus, Sully, Telly Monster, Wanda Cousteau, Zoe
Caroll Spinney, Pam Arciero, Camille Bonora, Fran Brill, Lisa Buckley, Kevin Clash, Bruce Connelly, Alice Dinnean, Louise Gold, Peter Linz, Rick Lyon, Noel MacNeal, Jim Martin, Joey Mazzarino, Jerry Nelson, Carmen Osbahr, Frank Oz, Martin P. Robinson, David Rudman, Judy Sladky, Steve Whitmire, Bryant Young
Season 26 Credits
Executive Producer: Michael Loman
Supervising Producer: Lisa Simon
Producer: Arlene Sherman
Directed by: Lisa Simon, Emily Squires, Ted May, Jon Stone, John Ferraro, Susan Dansby, Malcolm Jamal Warner, Gregory Lehane, Steven Feldman
Head Writer: Norman Stiles
Writers: Judy Freudberg, Tony Geiss, Lou Berger, Sonia Manzano, David Korr, John Weidman, Joey Mazzarino, Nancy Sans, Adam Rudman, Ian Ellis James, Belinda Ward, Josh Selig, Molly Boylan, Sara Compton, Christine Ferraro, Emily Perl Kingsley, Luis Santeiro, Jeff Moss, Cathi Rosenberg-Turow, Mo Willems, Jon Stone
Production Designer: Victor Di Napoli
Muppets, Costumes, Props: Ed Christie with Mark Zeszotek, Stephen Rotondaro, Laurent Linn, Mark Ruffin, Carlo Yannuzzi, Fred Buchholz, Ann Marie Timinelli, Larry Jameson, Tom Newby
Muppet coordinator: Kevin Clash
Music Director: Robby Merkin
Associate Music Director: Dave Conner
Music Coordinator: Danny Epstein
Graphic Designers: Mike Pantuso, Pete Ortiz
Set Decorator: Nat Mongioi
Associate Directors: Ted May, Ken Diego
Production Assistants: Tim Carter, Melissa Dino, Carol-Lynn Parente, Nina Shelton
Sound Effects: Dick Maitland
Audio: Blake Norton
Creative Consultant: Jon Stone
Assistant Vice President for Production Research: Valeria Lovelace
Chairman, Board of Advisors: Gerald S. Lesser
Sources
↑ The Spokesman-Review: Sesame Street discovers books - Nov 21, 1994
↑ Cerf, Christopher Songs from the Street: 35 Years of Music booklet, p. 40
Ad blocker interference detected!
Wikia is a free-to-use site that makes money from advertising. We have a modified experience for viewers using ad blockers

Wikia is not accessible if you've made further modifications. Remove the custom ad blocker rule(s) and the page will load as expected.